Indianapolis Motor Speedway
JEFF BURTON, NO. 31 CATERPILLAR CHEVROLET, met with members of the media at Indianapolis Motor Speedway and discussed his crew chief change, racing at Indy, the success of Chevrolet at the Brickyard and more.
HOW'S EVERYTHING GOING WITH LUKE? "It's going good. Obviously we are less than seven days into it but Luke brings a lot of enthusiasm and a lot of excitement and I think that's good for us. In a year like this that we've had we need everybody to get pumped back up and get excited and remember why we are doing this. We all started doing this because we wanted to do it, it's fun and we shouldn't lose that."
Jeff Burton, Richard Childress Racing Chevrolet
HAS IT BEEN FUN? "It's been chaotic. Obviously things came together really quickly and it's hard with so much chaos... I don't want to say chaos but with so much going on in a short period of time, we've got to get over that first. It's been fun to have interaction. I just think it's the way things were going you know what I mean? Obviously it's been a terrible year and even though everybody was bringing 100 percent, when you get down your 100 percent isn't when you're up 100 percent. I think we have a little spring in our step and everybody is excited."
WAS TODD THE PROBLEM OR DID YOU JUST NEED A CHANGE? "Todd is a really smart guy and very talented and he's been a part of RCR for a long time. The problem we're in isn't a one-person problem. Todd brings a tremendous amount to the table, a tremendous amount of good but at the end of the day the success just isn't here. We just can't continue on down the road we were on. It just wasn't working. But it's not singly Todd's fault by any means. Certainly he had some blame in it and so do I and so does everybody on the team but by no means do I think this is 100 percent Todd Berrier's fault."
WHAT IS HIS ROLE NOW WITH RCR? "I think Richard is still sorting that out. It's a difficult time because we are not real sure. Richard and everybody at RCR has a lot of respect for Todd and wants to try to find a way to work it out and have something for him to do but at the same time it's hard to just create a position, it has to be the right thing. I'm not real sure; Richard and Todd are going to have to figure that out. Primarily Richard is going to have to figure that out and determine what is best for RCR and how Todd can benefit the company. It may be something that Todd is not interested in. If Todd feels like he's better off doing something else that's going to be up for Todd to decide. The thing about RCR is I think things happen in racing and any business and sometimes relationships dissolve but that doesn't mean it has to be ugly. You know Richard wants to do the right thing and take care of people and he'll do everything to do that."
HOW MUCH INPUT DID YOU HAVE IN THIS DECISION? "Certainly Richard is the ultimate decision maker and he's the guy that has to look at the sponsors and the crew chiefs and the drivers and the crew members and all the fans, ultimately it's his decision. Certainly he doesn't make a decision like that without talking to me. We had a lot of conversations and he had a lot of conversations with Todd too. It wasn't that we just all ganged up on Todd. We had a lot of conversations. It was a difficult thing, it was just difficult. People put a lot of effort and energy into it but at the end of the day it was just time to do something."
DID YOU FEEL THIS MOVE COMING FOR A WHILE? "When you are in the claw of a war so to speak you're really not looking at those kind of options. I mean some people are but that's not my mindset. My mindset is more to think about just keep working and working and everybody has to keep working together but as the year went on it became evident that we had to change something and what that was who knew. But it became evident that we had to change something."
DID YOU HIT A POINT WHERE YOU REALIZED IT'S NOT GOING TO TURN AROUND? "Yeah, and that's what's difficult about these situations is when are you being too patient and when are you not being patient enough. I've always said the hardest part of what we do in this sport is knowing when to do something different and when you decide you've got to do something different sometimes it's too late, sometimes it's too early and that's really difficult. Certainly I think that all of us including Todd kept wanting to make it work, wanting to make it work, wanting to make it work then it just finally got to the point where we reached this point of the year. It wasn't like a deadline or anything like that it just got to the point where you can't be 25th in points without making major changes and it just go to be that point."
TALK ABOUT HOW MUCH PRECISION IT TAKES TO DRIVE THIS TRACK. "This is a very technical track. One of the reasons its very technical is if you're in a helicopter and you look at this race track the race track looks the same in all four corners but they are radically different. Turn one is completely different than turn three. Turn two is completely different than turn four. So to maximize your lap time you have to hit every corner properly so you have to be on mark at every corner and those marks are different in each and every corner so it's a very technical race track."
I think you measure more today on the championships you win...
WHAT ABOUT THE PRESTIGE OF THIS RACE? "Well it certainly hasn't gone down any. I think all of us in this sport have a tremendous amount of respect for what this race track has meant to American motorsports and worldwide motorsports. To me, I think one of the cool parts about coming here – we didn't make this race track, NASCAR made Daytona, made Darlington but we didn't make this track. This track was made by somebody else and we're coming here on the coat tails of somebody else and enjoying their history. I think that's cool. Don't get me wrong I think it's more cool when we create all the history but to be able to walk in behind the greats of open-wheel racing and race on this facility is pretty cool really."
HOW ABOUT RACING SATURDAY NIGHT HERE, UNDER THE LIGHTS? "I'm not sure they would like to pay to put the lights up. Anything we can do to improve the fans experience, whatever that is that's what we have to be willing to do. I don't care when we race – I guess I shouldn't say that it does matter to me but ultimately what matters is what the fans want and if we could have a Saturday night race here and that's what the fans want then I would be up for that."
WHEN YOU LOOK AT THE FOUR MAJOR TRACKS FOR NASCAR, IS THAT A MEASURING STICK FOR HOW GOOD YOU ARE WHEN YOU WIN AT THOSE TRACKS? "I have to be careful answering that question because I'm a big fan of Darlington. I think it's everything great about stock car racing. I think that Daytona with the restrictor-plate thing coming in that's changed that a little bit. We see surprise winners at speedway races. That doesn't make the Daytona 500 any less prestigious by any means but you're more likely to see a surprise winner at Daytona or Talladega than you are at perhaps Darlington although this year probably didn't verify that. That doesn't lessen what they are."
IT SEEMS LIKE YEARS AND YEARS AGO THE GREAT DRIVERS ALL WON THESE RACES AND NOW THEY DON'T ALL NECESSARILY SCORES THOSE WINS. "I think you measure more today on the championships you win and what you do in points. As we race more races, now don't get me wrong in the 60's we ran a lot of races but in the modern era of NASCAR we run 36 point races, as you run 36 point races I think it takes away something about the specialness of a particular race, if that makes any sense. There is so much focus today on what you do in the points and I think the Chase has only enhanced that, that the prestige of winning an individual race has come down a little bit. I don't think people are measured by winning the big races although it separates you in some form and fashion. You look at (Kevin) Harvick, you know Harvick hasn't won as many races as some people but the races he's won have been big, big races and that kind of puts him in a category that a lot of people aren't in. In some cases I think it still means something."
ON DRIVERS RUNNING OTHER FORMS OF MOTORSPORTS AND RISKING INJURY. "In Travis' case, the only reason Travis would be running a NASCAR race is because of what he's doing. It's part of his persona, its part of who he is. My son, he watches a Travis Pastrana movie once a month without all that he's not who he is. In his case, it's perfectly okay. It's what he does; it's what he's all about. When drivers are making as much money as we are making and sponsors are spending the money they are spending, when we start getting hurt not doing what we primarily are supposed to be doing that is going to cause heartburn for more and more people as it should. When everything is going well and nobody is getting hurt and all that, I know Kyle (Busch) races a lot, I mean all is good. You start impacting what you can do on Sunday's that ultimately is going to be a problem."
WHAT WOULD YOU RECOMMEND NASCAR DO TO MAKE THE RACING HERE MORE EXCITING? "This is a challenging track with the corners, the width of the race track, the banking. Honestly the better the cars handle, the better opportunity for good racing. So the better tire Goodyear can bring, the more downforce the cars can make, the more latitude the teams have in making the car drive good the better the race is going to be. We've seen what happens when the cars don't drive well at race tracks. The cars will get really spread out. From a purely make the race better, you make the cars drive really, really well and you have a lot of restarts. Those two things make the racing really good."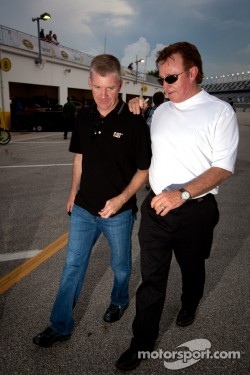 Jeff Burton, Richard Childress Racing Chevrolet with Richard Childress
WHAT IS IT LIKE TO RACE A LUCAS OIL RACEWAY? "It's sad to see that go away. I understand the bit picture but as far as coming to Indy, it's what goes on over there at the short track too. It's part of what makes the week cool. I really hate to see that going away because it's been part of what it's all about. That is a really fun race track. It's a multiple-groove race track, run all over the place. I've run here and taken a helicopter and raced over there. It's just a really cool event and I really hate to see it go. I mean I understand why and I understand all that but from my perspective it's sad to see that go away."
WHAT DO YOU HAVE TO SEE OR HOPE TO SEE WITH YOUR CREW CHIEF CHANGE TO THINK ITS WORKING? "I think Luke has to be himself. I think the main thing for Luke is he's 28 years old, he has a lot to learn but his personality is such that he's going to really, really use the people around him to make him feel better. He's very open-minded. I think for me I want him to be Luke. I don't want him to try to become Chad Knaus or try to become somebody else. I want him to be himself, that's why he's in this position. We want to have success. At the end of the day we want to have success but I think the way that we'll have success is by Luke recognizing the things that he doesn't know because of his inexperience and taking advantage of the things that he does know because of his background with his education. It will be taking advantage of his strengths, understanding his weaknesses."
WHY DO YOU THINK CHEVY HAS SO MUCH SUCCESS HERE AT THE BRICKYARD? "Well I think the Chevy teams are kind of in tune with this track. If you look at a lot of the teams, Chevy, a lot of those teams perform really well at flat race tracks. Chevy puts a lot of emphasis on this race for sure but I know the other manufacturers do too. Chevy is very committed to motorsports, very committed to helping the teams be the best they can possibly be there's no question about that. I think the teams are teams that this kind of race track fits really well."
By: team chevy