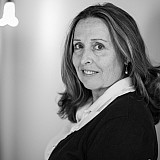 Kevin Harvick celebrates his first Cup title.
LAS VEGAS – NASCAR feted Sprint Cup Champion Kevin Harvick - and his fellow 15 Chase contenders on Friday night.
Harvick offered a heart-felt speech thanking his new team owners Tony Stewart and Gene Haas for providing him with the opportunity to drive the No. 4 Budweiser Chevy and former owner Richard Childress for his initial foray into the Cup series.
"I have to admit I was scared to death," Harvick said of his departure from RCR. "I tried to play it cool, but it was a pivotal moment in my career. I was venturing outside my comfort zone and I had to make it work.
"Tony, I consider you to be one of my best friends. You promised me if I came to Stewart-Haas Racing we would win a championship, and we did just that. You are a man of your word."
Throughout the banquet, producers displayed highlights from Harvick's remarkable season that included five wins, 14 top fives, 20 top 10s and 2,137 laps led.
But it was tux-clad Keelan Harvick who stole the show, before his dad deemed it was past the two-year-old's bedtime.
"I'm a racer, but I'm also a husband and a father, and I take great pride in each of those roles," Harvick said. "(Wife) DeLana has been with me since I was a rookie in the Nationwide Series.
"On the track I have (crew chief Childers) Rodney's voice in my ear helping me make the best decision possible. Off the track, DeLana is that voice of reason helping me do the same thing. She's my rock, and she rocks as a mom.
"I'm able to enjoy moments like this even more because of you and Keelan."
Surprise!
Dale Earnhardt Jr. earned his 12th Most Popular Driver Award on Friday night at the Sprint Cup.
Earnhardt, who joined Twitter this year, said that seeing the response from the fans was what impressed him most about the experience. Despite finishing eighth in the point standings, Earnhardt explained that the support from witnessing the fans voting "vote after vote after vote" helped carry him through the tough times this season.
"Seeing those votes every day, seeing that commitment and determination was really inspiring knowing that we had that support," Earnhardt said. "They were up before I was every day going to town on that computer. It really meant a lot to me. I got to know my friends in a whole new way…I got to make a connection that wasn't there before."