Get alerts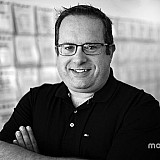 Part-time NASCAR competitor Derek White was among nearly 60 people targeted by Canadian police in what has been described as "the biggest tobacco-smuggling bust in North American history."
NASCAR is looking into the report.
Bloomberg Businessweek first reported White's involvement on Wednesday and said he was among those arrested for their involvement in biker gangs, organized crime, buying tobacco in the United States and then illegally importing it into Canada.
The tobacco was ultimately sold on the Kahnawake and Six Nations reserves police told Bloomberg Businessweek. White, 45, is a member of Mohawk tribe who lives in Kahnawake near Montreal.
NASCAR officials said Wednesday they were aware of the report and were investigating the matter. No official action has yet been taken.
White has attempted two NASCAR Xfinity Series races this season, failing to make the field in the season-opener at Daytona. He started last and finished 36th at Las Vegas for a team co-owned by himself and Carl Long.
White has made one career start in the Sprint Cup Series (finishing 39th last season in the July New Hampshire race), 22 in the Xfinity and six in Trucks. He has yet to register a top-10 finish.
White has also competed in the Canadian-based NASCAR Pinty's Series, where he has a pair of top-10s in three dozen career starts.