New Hampshire International Speedway
Gilliland and No. 34 Team Get Fitted for Flat Track
Team Looks to Improve at Loudon
New Hampshire Motor Speedway might not be on David Gilliland's list of favorite tracks, but he is still optimistic for this weekend's Lenox Industrial Tools 301. The No. 34 team has always been fast at the 1.058-mile track and shows improvement every time the NASCAR Sprint Cup Series returns to Loudon, N.H.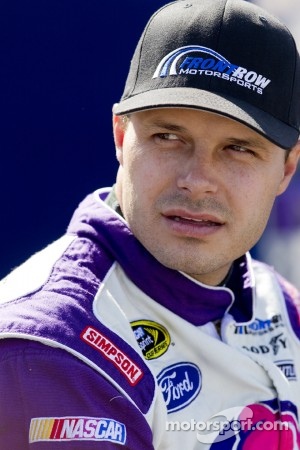 David Gilliland
The team will be heading to the flat track with a new set-up for this weekend's race, which may be just what Gilliland needs to get his Ford to the front of the pack. Gilliland has eight starts at Loudon with a career-best finish of 28th.
Comments from team driver David Gilliland on the upcoming Loudon race:
"I think we've gotten better in our approach to the flat tracks, like Loudon. It's probably my least favorite track of everywhere we go, but we feel like we tried some set-up stuff this year with Derrick Finley coming aboard that we've never tried before. That has been a definite plus for us. Hopefully, we can take some of what we've learned to Loudon and have a better result than in the past.
"The track may not be my favorite to race on, but I love the area. It's a beautiful part of the country. It's nice and quiet, kind of different from anywhere else we go throughout the racing season. As for the track not really being a favorite of mine, hopefully we can run a little bit better and move it up my list a little bit.
"We're a little disappointed with our results at Kentucky. We had hoped to get in a good test session on Thursday to help us with our mile-and-a-half program, but we had a shock problem and scraped up our primary car. We had to go to a back-up and never got back on track that day. Then we lost some practice time due to rain on Friday, so we just didn't get as many practice laps in as we really needed. So, unfortunately, we just didn't have the preparation we needed for the race on Saturday. Peter (Sospenzo) and the guys did a great job getting our back-up ready and making it better over the course of the race, but we had some cautions come out while we were on pit road and that just erased any progress we were making.
"But, we'll try and put that behind us and move on. We had good runs at Sonoma and Daytona and we want to get back that momentum we lost a bit last weekend. If we can get a solid, top-20 finish at New Hampshire that will be a great step forward for us. This team has made progress this season and we want to have a strong second half to finish the year."
By: front row motorsports