Kentucky Speedway
Gilliland Hopes to Repeat as Kentucky Cinderella
Makes First Return to Site of Stunning Underdog Win
The last time David Gilliland raced at Kentucky Speedway, his day ended in Victory Lane. That was in 2006 in the NASCAR Nationwide Series, when he drove a part-time, unsponsored car to a surprising win against a field of Sprint Cup regulars. Saturday's Quaker State 400 will make for a long-awaited reunion between the 1.5-mile speedway and the driver of the No. 34 Taco Bell Ford in the Sprint Cup Series - and another opportunity to prevail as an underdog.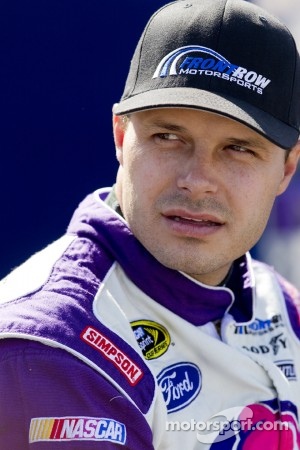 David Gilliland
Gilliland is coming off another strong run last week at Daytona International Speedway, where he finished 16th after running up front for part of the race and successfully evading two multi-car pile-ups in the closing laps.
The 2006 Nationwide win is Gilliland's only previous race at the Sparta, Ky., track.
Comments from Taco Bell driver David Gilliland on going to Kentucky:
"Kentucky is obviously a special track to me. I obviously have the big win there in the past and been waiting to go back ever since, so we're excited. I think Peter (Sospenzo) and the guys have a great racecar prepared. I'm really looking forward to the Thursday practice session. We've been really needing a test session on a mile-and-a-half track this year. We've kind of gone back and forth through some different set-up stuff and we're really hoping we can use some of that data from the test session to really solidify some of the stuff that we've found. I feel like that's going to be a big help for us as a team and as an organization. Hopefully we can go in there and come out with the same result we had last time - a win.
"We're excited as a team going into this race. We've been very competitive in parts of our program - the superspeedway and road-course stuff - and I feel like the mile-and-a-half stuff we've been a little bit behind on. So, hopefully we can use Kentucky to help us take a step forward in that area.
"I still remember that win like it was yesterday. We'd been working so hard for so long, and that was the one perfect night where everything just came together. You can kind of see the similarities in our situation here at Front Row Motorsports. We're one of the smaller teams, without a corporate sponsor, working hard each and every week to be more competitive. I know our day is coming, too. We're taking steps forward all the time.
"The last couple weeks show it. We had a great race at Infineon - a good racecar and ran up front all day. We had a great car last week at Daytona, too. We had the respect and confidence of Tony Stewart to run with us all day, and unfortunately we got separated at the end again so we couldn't finish it off. But we're stringing some good races together and hopefully that will get the attention of some potential sponsors to help push our program to the next level."
By: front row motorsports