Chris Buescher to continue with JTG/Daugherty Racing in 2018
Chris Buescher will continue his development program with JTG/Daugherty Racing in 2018, Motorsport.com has learned.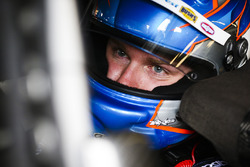 Buescher, who drives the No. 37 Chevrolet, is currently 25th in the Monster Energy Cup Series standings in his first full season with the team.
The 24-year-old Prosper, Texas native is coming off of a season-high sixth-place finish at Michigan Speedway last weekend.
"I think we've made big leaps throughout the season," Buescher told Motorsport.com last weekend at Michigan. "The last handful of races have been really good. We've worked really hard on bringing a faster race car to the track.
"We're making good swings at it. And I think we're building a good notebook for when we come back to these places a second time."
Buescher scored his first career Cup win last season at Pocono Raceway with Front Row Racing. In 65 starts, Buescher has one win, two top fives and five top 10 finishes.
He's grateful for the opportunity with JTGD and the assistance he's received from crew chief Trent Owens and teammate AJ Allmendinger.
"I'm still learning every week," Buescher said. "I've really enjoyed being around AJ (Allmendinger). He's been a really good teammate this season. He's helped me out a ton on road courses — where I feel I needed a lot of help in the Cup cars. Everywhere we go, it's been great to bounce things off of each other. We've been able to work really well together.
"I think from where JTG was at the end of last season — the new aero package has been hard for us to acclimate to — so that has taken a little more time than we had hoped but we're starting to get our heads around it a little better."
Buescher signed a multi-year deal with JTGD. Owner Tad Geschickter says it was Buescher's "trust, talent, and tenacity," that attracted him to the team. 
"Chris has been a great addition to the JTG Daugherty Racing family," Geschickter said. "We're extremely proud of what he has accomplished this year and we've learned a lot from him and the No. 37 team. We've got some of the best brands in the business supporting us and you couldn't ask for more. We're truly blessed and really excited for the future with Chris in the No. 37."
Geschickter has applied to NASCAR for the transfer of ownership for a new charter for the No. 37 team. He expects to hear something later this week. Geschickter also re-signed Owens for next season.
 Click on the videos below regarding the announcement:
Chris Buescher to continue with JTG/Daugherty Racing in 2018