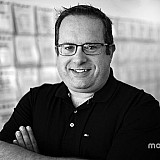 NASCAR Chairman Brian France is extremely pleased with the results of the low downforce package in the Sprint Cup Series and said NASCAR could be open to making more changes if teams are successful in finding a way around it.
In an interview Friday with SiriusXM NASCAR Radio host Dave Moody, France addressed what he described as a very successful start to the 2016 with regards to the on-track product.
"It's off to a really good start. We're not willing to say everything is perfect, but clearly the start of the season and the low downforce package in combination with Goodyear really producing a good tire matchup for that has given the drivers more of what they want and they are putting on one heck of race," France said.
The Cup season's first four races have produced two photo finishes, including Kevin Harvick's narrow victory over Carl Edwards last Sunday at Phoenix that featured the two drivers banging fenders across the finish line.
New package a move in the right direction
France said the sanctioning body likes what it sees thus far out of the low downforce package this season.
"As long as it's safe and cost-effective and we see more of the side-by-side classic NASCAR racing, we're not married to any particular package, but we want to get those three things out of any package that we come up with," he said.
"Goodyear has had a very tough job to produce a tire that lasts under incredibly difficult circumstances and to do exactly what we want from a handling standpoint and a falloff standpoint. They have as tall an order as anybody."
France said NASCAR would be open to taking away additional downforce during the season should teams be successful in finding ways to restore what was removed.
"As long as it doesn't break the bank financially and/or if it's a safety benefit, that's the criteria we'll use for making any rules changes mid-stream," France said. "The 43 teams, their job is to figure out whatever we're doing and game that system in a way that benefits them. That's auto racing.
"They have their job and we have ours. They're trying to win every weekend, so they have a different agenda then we do."
Other topics discussed
France touched on a couple other topics during his interview:
- He said there is "some interest" by a couple of different manufacturers to enter into NASCAR competition. "A lot of the car companies are understandably looking at the terrific job that Toyota has done by partnering with NASCAR and the success and all the things that come along with that," he said. "They've been an incredible success story for a car manufacturer looking to come in to a sport that is very difficult to come in, compete and win every weekend."
- France said NASCAR had a "short list" of companies from which a new sponsor for its Cup series will be chosen.
"It's the most coveted position in sports because of the rights that are granted," France said of the sponsorship. "We've got a good group of companies on our short list and hopefully in the coming weeks and months we'll get to the right place on that."