Get alerts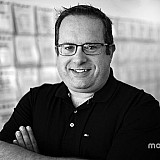 As part of Motorsport.com's content partnership with Team Penske, we will provide fans with exclusive content from the organization's drivers, crew members and staff throughout the 2017 season.
Ryan Blaney is coming full circle at Kansas Speedway.
Blaney, who competes full-time in the Monster Energy NASCAR Cup Series this season for the Wood Brothers and on loan from Team Penske, made his first career Cup start at Kansas on May 10, 2014.
He drove Team Penske's No. 12 Ford and his crew chief for his inaugural start was Jeremy Bullins. He started 21st and finished 27th.
More than three years later, Blaney is still working with Bullins at the Wood Brothers and next season will return to Team Penske and compete full-time in the No. 12 with Bullins as crew chief.
At the time of his first Cup start, Blaney was driving in the Truck Series for Brad Keselowski Racing. He's still doing double-duty, driving the No. 22 Discount Tire Ford in Saturday's Xfinity Series race.
"Kansas is always going to be special to me because it's where I made my first Cup start. We've always run good there and I really like the race track," Blaney said. "I didn't know what to expect in my first Cup race.
"I had made a good amount of Xfinity and Truck starts, including that weekend. I remember it was hard going back and forth from a super-fast Cup car and the Truck, where you're wide-open. That was really difficult to do.
"The hardest part is not know what to expect when you're racing around people, many you haven't competed against before. That whole weekend was a blur but still it was pretty neat because that's one of the fastest race tracks that we go to."
Blaney, 23, enters this weekend's Cup race at Kansas looking for a victory or strong finish to advance he and his Wood Brothers team to Round 3. He is currently ranked seventh of 12 playoff drivers – nine points about the cutoff.
The four lowest drivers in points (without a victory) will be eliminated from further title contention following the Kansas race.
Since his Cup series debut, Kansas has been one of Blaney's best tracks performance-wise. After his initial 27th-place finish, he's finished seventh, fifth and four this last spring, when he also won the pole.
"It has always sort of fit my driving style – it's smooth and fast and there is a lot of throttle time," he said. "That's something I like and it's not necessary something good at other race tracks but there it seems to do well for us.
"It's nice to keep improving. I feel like we had a good shot to win the spring race this year and it would be nice to go back there and try to do it again."
It's not been the smoothest first two races for Blaney in this playoff round, but it could have been much worse. He finished eighth at Charlotte after the team really struggled early in the race and he was caught up in a late-race crash at Talladega, but still managed to finish 18th and actually improved his points position.
"We were really off the first part of the race at Charlotte. By the end of the race, we were really good but if you run bad at the beginning, you don't get any Stage points," Blaney said. "That can just kill you.
"It's a shame we couldn't make that happen at Charlotte and Talladega is almost always a wash. And then there's Kansas. That's why I personally like this round a lot. We've got to make things happen. We can't just sit back and let it play out."