Blaney and Wallace take aim at Kyle Busch over controversial comments
Ryan Blaney doesn't like to give "no" for an answer.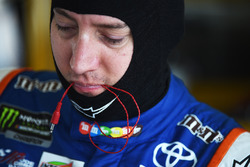 Like many of his 20-something peers, the third-generation racer could just as easily spend his spare time lounging on the couch playing video games.
Instead, Blaney prefers to find unique ways to engage with NASCAR fans—both current and prospective.
Engaging with the fans
Just last week during a Goodyear test at Texas Motor Speedway, Blaney organized a pizza party for spectators when the concession stands were closed. At Dover, after his Xfinity Series win last September, Blaney took the checkered flag and handed it to a young fan through the fence.
"NBC makes you get out and talk on the front stretch—and that's really cool," Blaney said. "It kind of puts you face-to-face with the fans while you're talking. Right after you take the checkered flag, your emotions are at their highest.
"I saw a young fan standing by the fence and I gave him the checkered flag. Him and his mother came down to Victory Lane afterwards, which was really cool. I got to meet them. I feel like those little things that you can do to get face-to-face with young fans at that very moment, give them something and make a memory. That's the biggest thing, giving them something and making a moment that lasts for a lifetime. Hopefully, there's many more like that."
Although just 24, Blaney understands the time he invests in NASCAR's fan base now will pay dividends down the road. 
"I've been really fortunate to have been given a lot of great chances from NASCAR to go and do things outside of motorsports," Blaney said. "NBC and NASCAR were a big part of having me doTaken, and the Cars voice, and Logan Lucky. That was really all from NASCAR.
"I've always been very open to do the things they want—not that it's always been stuff like that. There are some markets where you don't think it's going to be a very good market. But you do it anyway, because it helps the sport and it helps yourself. It's a win-win for everybody, even if you don't like doing it." 
Blaney "upset" by Busch's comments
Blaney took umbrage at Kyle Busch's comments on Tuesday that NASCAR's marketing strategy neglected veteran drivers. He believes the sanctioning body is willing to build the brands of the drivers willing to participate.
"I feel like if some drivers were more willing to do these things, they'd get asked more to do it," Blaney said. "The reason why I get asked more to do it a lot is because I say, 'Yes,' a lot. It's good for the sport and myself. I can tell you personally, he (Busch) doesn't like doing a lot of stuff. And that's why they don't ask him to do a lot of stuff. So that kind of made me a little upset how he bashed that part of it. But to each his own. If he doesn't want to do anything, so be it.
"But I think it's really important to have all NASCAR drivers to be pushing to get to new demographics of the world to get interested in our sport whether it's from younger fans to new fans that don't pay attention to it—that's everybody. It's not just younger drivers who are going to make people appeal to the sport. It's the whole lot. So I think everybody should be a little more open to helping the sport out because that's how it's going to survive. I'm trying to do the best that I can out of it, and a lot of other drivers are trying to help, too. It's just trying to get more and more every day."
Darrell Wallace Jr. calls Busch's take "stupid"
Blaney got no disagreement from Darrell "Bubba" Wallace, his close friend and a former Kyle Busch Motorsports driver. Wallace called his former owner's comment about young drivers, 'stupid.'
"I love Kyle to death, but, damn dude, c'mon," Wallace said. "I don't know how old he is. What is he? 32? Damn, he's that old? Getting up there, bud. He was in the same spot we were. They had the 'Gillette Young Guns' back then. He's still got the baby face now. So, I'm not really sure what he's trying to say.
"He had some of the same treatment we went through. I will say when certain drivers -- and if I ever get to this level you can pinch me and bring me back down -- but when they get to a certain level, they stop doing stuff.
"We get requests all the time. Some stuff we turn down, some stuff it's like, 'How does this help me?' OK, good.' It's kind of like pulling teeth when you get well-established in the Cup series. A lot of us are like that. It's one of those thing where I look at it as 'How does it promote my brand?' or promote the sport, or promote the youth movement?"
But Wallace is also aware of his responsibility to contribute to the greater good.
"If I'm promoting the sport, I'm promoting everybody in this room. We're all part of this sport together. It's actually like, 'You're welcome for doing the dirty work.' And I wouldn't really call it dirty work. Some of it is fun. We like doing that. I don't have the M&Ms sponsor to carry me full-time. I have 13 races. I have to sell myself.
"If NASCAR is going to do that and I don't have to pay for it, then hell yeah, sign me up."
Of course, Blaney benefits from being the son and grandson of racing champions. His father Dave was the 1995 World of Outlaws. Grandfather Lou won over 600 races over a half-century of racing. The patriarch then took over the operations at Sharon Speedway—a 3/8-mile dirt track in Hartford, Ohio—a responsibility that was eventually handed off to Dave.
Part of Blaney's racing education came from seeing the challenges of a local short track promoter.
"They do all sorts of things to try to help get fans," Blaney said. "That track is tough because there are like four within like a 100-mile radius. So it is hard to get a fan to come to your race track.
"I think that is something they did there when I was growing up – I don't make it out there much now racing every weekend – they really integrated the fans into things and had great entertainment and gave them tons of access and the fans appreciate that when they can feel a part of the family. I feel like I took a little of that from what they did at Sharon Speedway and try to apply that today."
And that's what keeps Blaney off the couch and on the golf cart in the infield with the fans.
"I would rather make other people happy than myself," Blaney said. "If I have to sacrifice time, it is just time. It really doesn't mean much to me personally. I would rather do something meaningful to the sport than to go sit on my couch.
"I say no every now and then. The only times I say no really is when I have my job to do. If it will interfere with things like that. If it is just me, I try to take personal days too but that is for vacation. Very rarely do I say no to things just to sit on my couch. I can do that at night and I can do that when I retire. I want to do as much as I can right now to make it work and make other people happy and make this thing the best it can."
Blaney and Wallace take aim at Kyle Busch over controversial comments