Michael Waltrip Racing
CORNELIUS, N.C. - Mark Martin has spent 30 years in NASCAR Sprint Cup Racing.
He has raced against many of the sport's greatest drivers including Richard Petty, Bobby Allison, Dale Earnhardt, Darrell Waltrip and modern day heroes like Jeff Gordon and Jimmie Johnson.
Martin raced at the 200 mph superspeedways and banged fenders on the notorious bullrings in the days before SAFER barriers, HANS devices, full- faced helmets and roof flaps.
I have been anti-lucky charm ever since.
Nothing he's encountered has ever unnerved the 53-year-old Batesville, Ark. native who's made 40 trips to victory lane.
But, there's still one thing in racing that makes his skin crawl.
"It's good luck charms," laughs Martin. "I don't like them at all."
To this day, Martin immediately hands off anything that most consider "lucky."
"I try not to insult fans when they give me something," he said. "I try to be nice and say thank you, but I can't get rid of them fast enough."
That's unusual in a sport where some drivers carry a rabbit's foot in the car, tape verses to the dash, put lucky coins in their uniform pockets. Through the years drivers have shunned green paint schemes, eating peanuts near the car before the race and driving the No. 13.
But, Martin said he has good reason to shun the supposed bringers of good fortune.
His dim view of good luck charms dates back to one Sunday afternoon in 1993 at North Wilkesboro Speedway. A well-meaning fan gave Martin a four-leaf clover he taped to the dash of his car.
"I got hit in the back right after the green flag came out," Martin recalled. "I got hit so hard it destroyed my car and ruined our race. We got all tore up."
That was the end of good luck charms for Martin.
"I have been anti lucky charm ever since."
Historic driver ready for historic track: Mark Martin To Make 46th Start at Darlington
One of NASCAR's greatest drivers races on one of the sport's great tracks this weekend when No. 55 Aaron's Dream Machine Toyota driver Mark Martin returns to action at Darlington International Raceway. The 53-year-old Martin owns two Sprint Cup and eight Nationwide Series victories on the 1.366-mile South Carolina track. The Batesville, Ark. native hasn't lost any speed in his 30th year of competition. The Michael Waltrip Racing driver has won poles in two of the seven races he's entered in 2012 and is 24th in driver points — despite choosing to sit out three of the season's 10 races.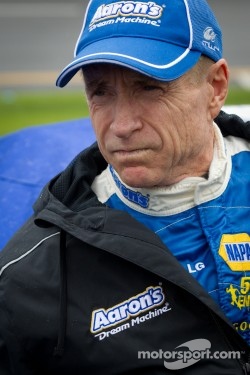 Mark Martin, Michael Waltrip Racing Toyota
What are your thoughts on returning to Darlington? "Darlington is the 'Lady in Black.' I don't think I've missed one there since 1988. I always enjoy racing at Darlington – that's a driver's challenge."
How do you like driving for Michael Waltrip Racing? "I am just so proud of MWR and all the people there and the teamwork that they have shown there starting with Martin Truex, Jr., who has put so much work into getting the program where it was when we started the season and everybody combined. They really have a lot of great people there with great attitude, great teamwork and, man, have I got one awesome crew chief in Rodney Childers. This is so much fun and such an incredible privilege to drive a race car at this point in my career. We've made improvements every race that we've got to run together, so Rodney (Childers) and I are starting to figure some things out in the car that I like for the long haul, so it's working well."