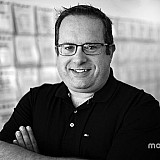 Everyone is well aware of Kevin Harvick's stellar record at Phoenix International Raceway, but Joey Logano for one believes Harvick is "beatable" this weekend.
Harvick is in a dire points position with one race left to become one of the four drivers who compete for the Sprint Cup Series title next weekend at Homestead-Miami Speedway. Jimmie Johnson and Carl Edwards have already claimed two of the spots through wins.
Harvick, however, has won five of the last six races at Phoenix – including this spring – and because of that record the general consensus is a victory in Sunday's Can-Am 500 is all-but guaranteed.
"I think it is no secret that what he has done here is very impressive," Logano said of Harvick Friday at Phoenix. "He has won a lot of races here and definitely has something figured out.
"We have learned as a race team to worry about ourselves. That is the only way we will control our own destiny. We also learn from what other people are doing to change what we are doing sometimes."
Paying attention
Logano, who currently holds a one-point advantage over fifth-place Matt Kenseth for a transfer spot, says he and his Team Penske No. 22 Ford team still plan to pay close attention to what Harvick does this weekend.
"We watch what he does on and off the race track. We have to. We have to see what it is and what makes him dominant at this race track," he said. "I will say it seems like he is very fast here but he is also beatable here.
"If you look at the spring race – that was pretty close (photo finish with Carl Edwards). That was really close. It was fun to watch for me on the way out here. There have been times that he hasn't been very strong. He didn't qualify very well here in the spring race. There are a lot of opportunities out there for us and it isn't a given for him."
In need of a better result
Neither Logano nor his teammate, Brad Keselowski, performed well at Phoenix in the spring – Logano finished 18th and Keselowski 29th.
"This garage area is very tough and advantages don't last very long. Yes, (Harvick) has had an amazing run here and his advantages have lasted a long time and will still be a car we have to go compete against to beat, but we don't come in here feeling defeated," Logano said.
"I feel like my team has everything it takes to beat him."