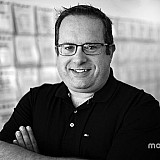 Roger Penske has yet to win as a team owner in the Brickyard 400 at Indianapolis Motor Speedway.
No one needs to remind Joey Logano how much it would mean to give his NASCAR team owner, Roger Penske, his first win in the Brickyard 400 at Indianapolis Motor Speedway.
"I don't think you really need any more incentive besides giving Roger Penske another win at Indy," Logano said Friday at IMS. "Every time I walk into the shop the first thing you see is all these Indy 500 trophies and helmets that the drivers wore when they won that race and the picture.
"It would be really cool to give him his first win in the Sprint Cup Series at this race track."
Matching Ganassi
A win by Logano would also put Penske is another exclusive list: He would become just the second team owner to win the Daytona 500, Indianapolis 500 and Brickyard 400 all in the same season.
Chip Ganassi is the only owner to accomplish that feat. In 2010, Jamie McMurray won the Daytona 500 and Brickyard 400 while Dario Franchitti won the Indy 500 for Ganassi Racing.
Logano's victory in the Daytona 500 this season and Juan Pablo Montoya's win at Indy in the 500 in May – Penske's 16th in that prestigious race – have provided Penske an opportunity to capitalize on that elusive Brickyard win.
"We really want to win this race. This is the one on his bucket list that he hasn't gotten yet and we talk a lot about it," Logano said.
"Anytime you get to race at Indy is a privilege to come up here and to get to drive a race car around this place."
Logano's record at IMS
Logano has made six career starts at Indy, with his fifth-place finish a year ago the only top-five at the track. In two starts since joining Team Penske, however, he hasn't finished worse than eighth.
He finished eighth and fourth in the series standings in his first two seasons driving for Penske, including last year's run that left him as one of four drivers competing for the series championship in the season finale at Homestead, Fla.
A new high-drag aerodynamic debuting this weekend throws an added unknown into a race which has typically been about horsepower.
"It's Indy. It's always a tough place," Logano said. "It's always one of those places that strategy is going to come into play.
"That always happens here and I think no matter the package you put on the car strategy and the way you play out this race will always be interesting because it plays out like Pocono – you can pit and not go down a lap, we've seen that jumble up the field a lot."