Get alerts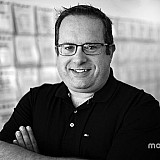 Leavine Family Racing confirmed Thursday that it has purchased an ownership charter which will be used to field a full-time entry in the Sprint Cup Series in 2017.
This season, Leavine has partnered with Circle Sport Racing to field one entry in the Cup series, with help of a charter granted to Circle Sport's owner, Joe Falk. Michael McDowell is the primary driver of the combined No. 95 entry.
Leavine purchased its own charter from Tommy Baldwin Racing, which currently fields the No. 7 Chevrolets driven by Regan Smith.
"Leavine Family Racing is committed to continued growth on and off the race track," said owner Bob Leavine in a statement. "The charter is a meaningful step forward for our team and provides us further stability as we look towards success in 2017 and beyond. 
"We are confident that the purchase of the charter and continued improvement on the track will lead to increased revenue opportunities."
Owners Bob and Sharon Leavine have competed in NASCAR since 2010 when they became sponsors in what was then the Nationwide Series and in the Camping World Truck Series.
Leavine Family Racing was formed in 2011 and has grown to an organization employing 25 people with a race shop in Concord, N.C.
No details were provided as to what Leavine Family Racing paid for the charter.