Get alerts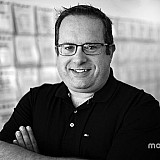 Las Vegas Motor Speedway has long sought a second Monster Energy NASCAR Cup Series race date but the process which actually saw it come to fruition this week was actually relatively short.
For years, Speedway Motorsports Inc. officials have been having conversations with the Las Vegas Convention and Visitors Authority about working together on obtaining a second Cup race.
"Sometimes the timing was off for us and sometimes the timing was off for them," Chris Powell, LVMS's track president, told Motorsport.com on Friday. "The LVCVA are experts at promoting Las Vegas and great people.
"It just never appeared it was the right time."
That changed in early February, when a casual overture made by SMI was met with the willingness of the LVCVA to complete a deal.
"This was one of those things where Marcus called me and asked if I could check with them again to see where they stand, I did, and it quickly became apparent we were ready on our side and they were ready on their side," Powell said.
"It's all about bringing people to this town. This is a town that has put on major events for years and years. It's a town that lives on big events."
Powell said he played no role in SMI's decision or the discussions to remove Cup and Truck race dates from New Hampshire and an Xfinity race from Kentucky in order to create the second Vegas race weekend.
Once SMI had decided where its Cup date would come from, however, the LVCVA's deal just needed board approval, which was obtained on Wednesday.
The deal
The LVCVA approved a seven-year sponsorship and marketing agreement that would dedicate $1 million per race, plus $500,000 a year to market both the spring and fall events, beginning Jan. 1. The contract carries an option for three additional years. 
There is currently no other comparable agreement from a host city to financially contribute to the promotion of NASCAR events.
On Friday, the speedway also announced the addition of a new entitlement sponsor for its spring Cup race with Pennzoil in a deal that runs through at least the 2022 season.
"Let me assure you, that we have our work cut out – we have a challenge to sell tickets," Powell said. "But this is a great town and there is no city in which I would want to promote two NASCAR tripleheader weekends a year any more than I would want to do it here.
"This is the only speedway on the planet will have two tripleheader weekends – it's never been done before. We're excited by it, we're challenged by it and we're going to succeed with it."