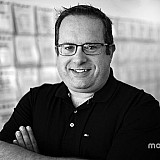 Kyle Busch is the Sprint Cup Series points leader and his Joe Gibbs Racing teammate, Denny Hamlin, opened the 2016 NASCAR season with a victory in the Daytona 500. But the JGR drivers believe they still have lots of work to do for the season ahead.
Busch used a pair of late-race three-wide passes to claim the lead in Sunday's race at Las Vegas Motor Speedway but was eventually run down by winner Brad Keselowski. His fourth-place finish was the best of JGR group, however.
"We have some work to do," Busch said about JGR's program on intermediate tracks. "There's definitely guys that are better than us. I think as a company, we're not bad. I think we're fourth to eighth – out of all of us, that's kind of where we run.
"We need to get a little better to where we're the guys that can be up front and lead laps. Yeah, we led laps today, but Matt (Kenseth) being a leader got passed and me being a leader got passed under (the) green flag, so we're just not good enough."
Both Kenseth (37th) and Carl Edwards (18th) were involved in accidents on the track and Hamlin tried a two-tire pit stop early in the race but couldn't remain up front. He struggled with track position the rest of the race and finished 19th.
After the race, Hamlin posted this on his Twitter account:
One bright spot, Busch said, was his No. 11 team's ability to vastly improve its performance over the course of the weekend.
"We struggled really, really bad all weekend, we were horrible. That's not at all where we should have finished considering how it started," Busch said. "It was a good day. It wasn't a win, but we were doing a good job doing what we need to do to keep top-fiving it and the wins will come."
Busch has started the season with three consecutive top-five finishes which has propelled him into the points lead even without a victory.
Martin Truex Jr., whose Furniture Row Racing team utilizes JGR chassis and Toyota engines, had a similar problem as the JGR drivers late in the race.
"We had some good runs, but at the end of the race the handling of our (car) wasn't what we needed to bring home a strong top-10 finish," he said. "We could have used another caution close to the end.
"The car wasn't right and it was sure disappointing to see those other cars get by me. An 11th place finish is nothing to brag about or nothing to get depressed about. It just wasn't our day."