Joe Gibbs Racing
KYLE BUSCH
Turning of the 'Tide'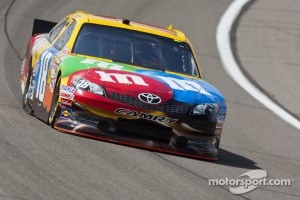 Kyle Busch, Joe Gibbs Racing Toyota
HUNTERSVILLE, N.C. (May 1, 2012) – About 100 miles west of Talladega (Ala.) Superspeedway sits the campus of the University of Alabama in Tuscaloosa, home of the 2009 and 2011 NCAA football national-championship-winning Alabama Crimson Tide. About 100 miles to the southeast of the 2.66-mile superspeedway tri-oval is the campus of Auburn University, whose Tigers captured college football's national title in 2010. That's a streak of three national titles and counting for the state of Alabama.
It's by no coincidence that Kyle Busch, driver of the No. 18 M&M's Toyota for Joe Gibbs Racing (JGR), heads into Sunday's NASCAR Sprint Cup Series Aaron's 499 at Talladega with a laser focus on the 2012 Sprint Cup championship. And he's riding the momentum of last weekend's first win of the season at Richmond (Va.) International Raceway that turned the tide for Busch and the No. 18 team after a rather tumultuous start to the season.
Busch has conquered mammoth Talladega oval just once in his career, his lone win coming in April 2008. In 14 starts at the track, he has just three other top-15 finishes and five outings that ended with an accident. So, as he heads to Alabama just days after his 27th birthday on Wednesday, Busch knows the winner of Sunday's 500-mile race will not only need to have a strong car, but also have luck on his side in order to survive the usually inevitable multicar accident on NASCAR's longest track.
Despite winning the season-opening non-points Budweiser Shootout, Busch and the M&M's team had some tough luck to slow their start to the season in the Sprint Cup point standings. Accidents at Bristol (Tenn.) Motor Speedway and Martinsville (Va.) Speedway, usually strong tracks for the No. 18 team, proved to be major setbacks. But since leaving Martinsville a month ago, Busch has finished 11th or better over the last three races and jumped from 16th to his current position of 11th in the series standings.
So, it certainly seems the tide is finally turning for Busch and Dave Rogers his crew chief this season, as they look to keep riding their momentum into Sunday's Aaron's 499. While Busch feels he has great equipment underneath him via the No. 18 M&M's Toyota provided to him by JGR, and with driver-crew chief communication as strong as ever, he also knows he will need a little bit of luck to survive a Talladega race and repeat his lone triumph there from 2008.
KYLE BUSCH, Driver of the No. 18 M&M's Toyota Camry for Joe Gibbs Racing:
Do you expect to see more pack racing at Talladega?
"I think we kind of saw a little bit of that at Daytona – there wasn't much tandem-style stuff going on. You do just overheat too fast and you can't take a chance in overheating and pushing water out and hurting your motor. It's a long race. It's going to be a 500-mile race and the thing about Daytona we may or may not see in Talladega is, at Daytona, it was hard to get the outside lane moving. It seemed like once you got single-filed out on the bottom, the bottom was too strong to hold, and to hold off the outside lane or any progress from the outside lane. Talladega is wide enough that there could be a middle lane and guys could shoot up through the middle and really make some evasive moves or aggressive moves, sometimes. Hopefully, it's a better race and puts on a better show than my opinion of how the Daytona race played out."
Does being a former race winner at Talladega offer you any sort of advantage over the competition?
"It doesn't matter at all. It's such a crapshoot there in the last 20, 30 or 40 laps that you never really know who is going to win, what's going to happen, and where the wreck is going to come from."
What is the key to pulling off a victory at Talladega?
"The key there is to somehow stay out of trouble. At Talladega, you pretty much stay around the bottom since there is a lot of grip there, and you can pretty much run wide open every single lap. Everyone can run up on top of each other. When you get single-file at the bottom, sometimes it's hard to get a lane on the outside with enough good cars to get something going. It can be frustrating, at times, because of that. It also seems to still put on a good race each time we go there. If you can be a contender and stay in line on the bottom, you can make it a pretty easy and safe race. Normally, guys are not content doing that, so that's when it starts to get crazy."
Your M&M's guys got you out front during the last pit stop at Richmond and you eventually went on to win. How important are what those guys do, and what's your relationship with your over-the-wall guys?
"I can never say enough good things about my over-the-wall guys. This is rare in this sport, but these are the same exact over-the-wall guys I started with at Joe Gibbs Racing back in 2008. We have not made one single change to our over-the-wall team. More times than not, I'm looking forward to coming down pit road because I know my guys are going to do it better than anyone else out there. It's nice to have that support and them not wanting to go anywhere, and to win the races we have together has been great."
Looking ahead at the schedule, with Talladega, Darlington and Charlotte coming up, do you believe in momentum?
"I do believe in momentum. With winning at Richmond, Talladega could hurt that since I've never had the luck at Talladega. I just want to go there and try and stay out of a wreck – doesn't matter if it was a top-five or a top-10. We had a good car at Darlington and had some loose wheel issues that set us back, so hoping to have a better finish there. Looking ahead to Charlotte, it's my favorite track and I love going there. I love the All-Star race because it's a fun format. The 600-miler has been pretty good to me even though we haven't won a Cup race there. Dover is one of my favorite racetracks, so I'm really looking forward to the summer stretch here and to keep that momentum from Richmond going."
With the win in Richmond, did you look at last week as a pivotal race even though it's only nine races into the season? Is Richmond an indicator of how your team is right now?
"We have two good places, usually, toward the start of the year and Richmond is one of them. Bristol was another one I always look forward to being able to run competitive at. We got wrecked 25 laps into it, so we really didn't get a chance to showcase what I felt our car was going to be able to do that day. The mile-and-a-halves, I feel like I'm a little bit behind, there, and we just don't quite know what it takes to be fast at some of those places. So we're working on that and getting better. Getting a top-10 in Kansas was an improvement for us with our past record there. To evaluate our program, we feel like we've definitely had some ups and downs. We definitely feel like we haven't run to the competitiveness that we want to. We're not out there leading all the laps and running up front and doing what Biffle has been able to do, or Martin Truex has been able to do, or some of those other guys. But I think, to the question before, those guys at MWR (Michael Waltrip Racing), they've run a lot better this year and it's great to see they've learned a lot of things from what we've been doing over the past, and it's our turn to learn from what they've been doing and make ourselves better, yet, and to try to just keep doing that to make all of our organizations successful."