Joe Gibbs Racing
KYLE BUSCH
Spring Is in the Air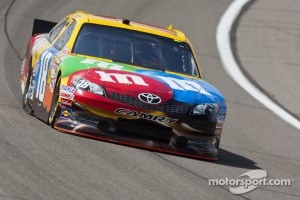 Kyle Busch, Joe Gibbs Racing Toyota
HUNTERSVILLE, N.C. (April 24, 2012) – Every year in late April across the United States, signs of spring begins to appear all around. Flowers and trees start to come into bloom, the grass begins to grow, the weather becomes warmer – and, of course, Kyle Busch is winning a NASCAR Sprint Cup Series race at Richmond (Va.) International Raceway.
The driver of the No. 18 M&M's Toyota for Joe Gibbs Racing (JGR) is returning to Richmond for Saturday night's Sprint Cup Series Richmond 400 as the winner of the last three spring events at the .75-mile oval, having won in 2009, 2010 and 2011 in dominating fashion. Last April, the Las Vegas native brought home his third career Sprint Cup victory at Richmond to go with four runner-up finishes and an amazing 11 top-fives in just 14 career Sprint Cup starts in Virginia's capital city.
The talented 26-year-old has an average finishing position of 5.0 at Richmond, tops among all active drivers, including JGR teammate Denny Hamlin, whose average finish there is 7.6. Busch has completed all 5,610 laps available to him in his 14 career Richmond starts. Of those laps completed, Busch has run in the top-15 for 4,892 (87.2 percent) of them – second-most among active drivers at the track.
While he has always had strong runs at Richmond since joining the Sprint Cup ranks in 2005, Busch's first Sprint Cup victory there came in May 2009, where he became only the second driver in Sprint Cup history to celebrate a victory on his birthday, a feat first accomplished by Cale Yarborough, who did it twice. Yarborough won on his March 27 birthday at North Wilkesboro (N.C.) Speedway in 1977 and at Atlanta Motor Speedway in 1983. Since then, Busch has finished no worse than sixth at Richmond during the 2009-2011 seasons, recording wins in the last three spring races and fifth, second and sixth, respectively, in the fall races the past three seasons.
While his birthday isn't until next Wednesday, the soon-to-be 27-year-old would like nothing more than to add another Richmond win to his resume and celebrate his birthday a few days early in victory lane on Saturday night at Richmond.
And if anyone needs confirmation that spring is in the air, they may not need to look any further than victory lane Saturday night in the "Capital of the Commonwealth of Virginia."
KYLE BUSCH, Driver of the No. 18 M&M's Toyota Camry for Joe Gibbs Racing:
What is it about Richmond that suits your driving style?
"I'm not sure exactly what it is about Richmond that fits my style. When I first went there in the Trucks, I was terrible. And then they repaved the place and I went there in a Nationwide car with Hendrick Motorsports and pulled off a win right away. It's been a good track for me ever since then with both the Nationwide and the Cup Series and I have just taken a liking to it. You have to be so technical there. The speeds are really high, but yet it's a short track. You really have to be on top of your game to be sure the car stays under you."
Why is Joe Gibbs Racing so strong at Richmond?
"I think a lot of it comes from Denny (Hamlin), being that it's his home track. I've been good there in Hendrick and JGR cars. But Denny and I really feed off each other an awful lot in Richmond. We use each other a ton there just to be sure we can beat the rest of the competition, of course. We do like similar setups there, unlike other mile-and-a-half tracks or two-mile tracks where we don't run very similar setups. Richmond is one of those places where we both know what it takes to get around and we're both similar to one another that we both run well."
You've had plenty of success at Richmond over the years with an impressive average finish of 5.0. Is there a way you drive the racecar there that has helped you?
"At Richmond, you try to be easy on the brakes getting in so you don't lock up getting into the corner or get too loose getting into the corner. It's really particular there. The center (of the corner) always seems to be a little tight with these cars. And the exit, today, has been so loose. Nobody has any forward bite coming up off the corner, so it's pretty bad. That should make for a pretty interesting race. It's a fun short track. It's pretty fast and it usually spreads out, and you'll get a lot of grooves to choose from. You can pretty much count on the usual exciting short-track race when you go there."
How do you communicate what you feel in the racecar, and does that help you at short tracks?
"That's always been there. I have a good knowledge of what I'm feeling. Dave (Rogers, crew chief) doesn't know exactly what I'm feeling in the car, so I know what a track bar does, what a wedge does, I know what air pressure does. I know what all that does, so when they ask me about a change, they're like, 'Let's do wedge,' and I'm like, 'No, that's not really going to help with what I need.' Sometimes Dave can look at the timing and scoring and say we're two-tenths off from where we need to be and I can say, 'Yeah, I just need half-a-round of wedge.' Then he says, 'We need something a lot more than that. We're going to have to swing at this thing to get it right.' That's when you rely on information from both sides. It's like what I'm feeling is this and what Dave is seeing on the stopwatch is that, so you have to work back and forth. We work together on those decisions."
How would you assess where you and the M&M's team are at heading into Richmond this weekend?
"We haven't had the runs that we are looking for quite yet. I've been missing a little bit of comfort in our cars this year, but I feel like we're slowly gaining it back. I look for a certain feel in the car and we just haven't quite hit on it, yet. We've kept working at making that better. We've been working hard at gaining some spots in the points. We've got some really good racetracks for us coming up with places like Richmond this weekend, Charlotte, and Dover, so I feel confident in the progress that Dave and I have made and feel like we have some good runs in us coming up. We've come out early in the season and won races before, but we want to first get ourselves in the Chase, and hit our stride so we're our strongest at the end of the year."