Get alerts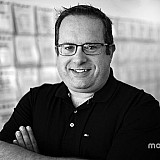 Kurt Busch set a new qualifying record and won the pole at Las Vegas – and in NASCAR's sometimes quirky qualifying, they happened on different laps.
Busch posted a lap at 196.328 mph in the final round of group qualifying on Friday, just besting Joey Logano (195.851 mph), who will start on the front row at Vegas for the third consecutive season.
The pole is Busch's second consecutive this season and his second at his hometown track (the last came at 2010). Busch missed this race a year ago while serving three-race suspension issued by NASCAR for his involvement in a domestic violence incident involving his former girlfriend.
"It takes a lot of effort to find that perfect lap three times out there," Busch said. "We were way tight and (crew chief Tony) Gibson and crew went to town and adjusted on it. We gambled on and made the last session, which was great.
"It was icing on the cake to be able to go out in the third round. First or 12th – it didn't matter."
Busch actually set the new track qualifying record in the first round, with his lap at 196.378 mph. The previous record (194.679 mph) was set last season by Jeff Gordon.
Behind Logano, the lineup continues with Matt Kenseth, Brad Keselowski, Austin Dillon, Kevin Harvick, Aric Almirola, Kasey Kahne, Denny Hamlin, Martin Truex Jr., Jimmie Johnson and A.J. Allmendinger.
Logano said Thursday's test session at the track definitely helped himself and Keselowski, his Team Penske teammate.
"It just goes to show that hard work and having that test day yesterday helped us. It's pretty hairy out there," he said. "I thought I had a pretty good lap. I think it's going to be great race on Sunday."
Round 2 - Edwards wrecks
Three minutes into the second session, Carl Edwards had a right-rear tire go down and slammed into the wall. NASCAR immediately red-flagged the session with just under seven minutes remaining, and Brian Vickers who was running on the track at the time, had his time waved off.
At the time of the stoppage, Keselowski was fastest, followed by Kenseth and Hamlin.
"I think the right-rear was going down. There was a big bang," Edwards said. "It hit hard and bounced up the race track. This will be just another test for us." Edwards' team will move to a back-up car for the race.
At the end of the 10 minute session, Keselowski led the way advancing to the final round, followed by Logano, Kurt Busch, Truex, Kenseth, Allmendinger, Almirola, Hamlin, Kahne, Johnson, Harvick and Dillon.
Round 1 - Harvick narrowly advances
It was clear speeds were going to be fast when Keselowski posted a lap faster than the previous track record just seven cars into the 20-minute first session of qualifying.
Jamie McMurray was the only car that appeared to have a problem, as the right-rear of his No. 1 Chevrolet tapped the wall coming off Turn 4. His team planned to repair the car.
Kevin Harvick was hampered by a bad early run and was sitting in 31st before jumping up to the 23rd spot on his third run of the session. He began his lap just before time expired in the session.
Kurt Busch led the way in the first session, followed by Logano, Johnson, Edwards, Vickers, Keselowski, Kenseth, Hamlin, Almirola and Kahne.
Keselowki had a right-rear tire go flat at the end of the session and was allowed to substitute the tire with a scuff before the start of the second session.