Get alerts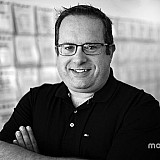 While much of NASCAR is focused on honoring the sport's past at Darlington this weekend, Kurt Busch decided to take a bold step into the future.
Busch's No. 41 Stewart-Haas Racing team became the first to debut the use of the 'digital dash' in the Sprint Cup Series. Teams were allowed to begin using the new technology in August but Busch is the first to use it at the track.
"It's evolving, and it's something that we think can be a real game changer for the sport in terms of us showcasing technology," Steve O'Donnell, NASCAR's executive vice president and chief racing development officer, said recently.
The dash has 16 present screens and teams have the opportunity to customize the screens as they want. They have the ability to display data using numbers, bar graphs, color scales or a digital version of the familiar gauge with needle.
This season, teams have access to the same information on the digital dash as is available via analog gauges – RPM, water and oil temperatures, oil pressure, water pressure, fuel pressure and voltage.
"We came and tested it here at Darlington. It is fun to be on the leading edge working with technology and other things you need in the car to be comfortable are there, so the dash is the only things that's different," said Busch.
"I'm trying to implement one small thing at a time to be able to digest it and have it feel like it's the back of my hand once the race starts. 
"The biggest thing is focusing on water temp and pit road speed. That is the two biggest things when you are moving and looking at gauges and switching from an analog and to a digital.
"The dashboard is cool to work with. I can change positions of the information and have all my info in a condensed area. It's a nice universal piece that all drivers will be able to tailor to their specific needs."
He then quipped: "I haven't found the nitrous button yet!"
Ultimately, race fans will be able to benefit from the new technology.
Fans will have access to more comprehensive, and accurate, data from their favorite teams. They could consume this information real-time through the race broadcasts as well as several of NASCAR's digital platforms.
Three more teams are expected to utilize the digital dash for next weekend's race at Richmond (Va.) International Raceway.