Keselowski tops final practice at Texas
Two former Chaser contenders were fastest in Happy Hour at Texas Motor Speedway on Saturday.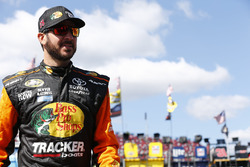 Brad Keselowski, who earned the pole for the O'Reilly Auto Parts Challenge moments earlier, posted a fast single-lap speed of 190.685mph (28319-seconds). After qualifying fourth for Sunday's AAA Texas 500, he was pleased with the speed the team picked up throughout the weekend.
"We weren't where we wanted to be at the start but we kept on it and kept getting better," Keselowski said. "That is a testament to Paul Wolfe and the 2 crew here and I am very proud of that effort."
Martin Truex Jr., who rolls off 12th on Sunday, was second quick with a speed of 189.787mph. Kyle Busch recorded the third fastest lap of 189.753mph followed by Joey Logano (189.707mph) and rookie Chase Elliott. Logano's 52 laps were the most completed in final practice.
Ryan Newman (189.387mph), rookie Ryan Blaney (189.274mph), Carl Edwards (189.255mph), Chris Buescher (189.201mph)and Kurt Busch (189.069mph) rounded out the top 10 in single lap speeds. Other Chasers in the category included defending race winner Jimmie Johnson (15th), Denny Hamlin (18th) and Matt Kenseth (19th).
Truex led the Best 10 Consecutive Lap Average category with a speed of 184.413. Elliott (184.197mph) was second quick followed by Keselowski (184.191mph), Logano (183.859mph), Edwards (183.852mph), polesitter Austin Dillon (183.725mph), Kenseth (183.593mph), Ryan Newman (183.461mph), Blaney (183.127mph) and Jamie McMurray (182.165mph).
Thirty-four drivers participated in 10-plus lap runs.
Be first to get
breaking news
Keselowski tops final practice at Texas