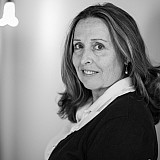 After a month of struggling to find speed, Brad Keselowski has been a demon at Kansas Speedway this weekend.
The No. 2 Team Penske Ford was fastest in first practice on Friday morning then won the pole for the Hollywood Casino 400 in the afternoon.
On Saturday, Keselowski jumped to the top of the speed chart in second practice with a lap of 189.960 mph. He also had the Best Consecutive 5 Lap Average of 188.64 mph. 
"Track is changing", but the Deuce is still quickest
"The track is changing," Keselowski said. "Today, it's a lot cooler than it's supposed to be tomorrow. We know the grooves and all that is going to change, so we have some speed by we have to keep working on it because you're gonna see comers and goers as the track changes and we don't want to be a goer.
"We want to be one of those guys that comes to the front and stays in the front, so we've got to keep working."
Matt Kenseth was second quick with a lap of 189.215 mph, followed by the Fords of Joey Logano (189.062 mph) and Ryan Blaney (188.910 mph). Brian Scott, who is still working on plans for next year, was the fastest Chevrolet (188.897 mph) but spun out coming to pit road 33 minutes into the session. 
Chaser Martin Truex Jr. was sixth quick (188.838 mph), with Greg Biffle (188.758 mph), Denny Hamlin (188.580 mph), Kevin Harvick (188.403 mph) and Ryan Newman (188.376 mph) rounding out the top 10. 
Hamlin posted the second Best 5 Lap Average and the Best Consecutive 10 Lap Average with a speed  of 187.42 mph. Harvick, Johnson, Kurt Busch and Blaney completed the top five in that category. 
Hornish hiccups
Practice was stopped for debris 38 minutes into the session and again with less than five minutes remaining after Sam Hornish Jr. lost control of the No. 9 Ford. 
Other Chase notables included Kurt Busch (16th), Dale Earnhardt Jr. (17th), Kyle Busch (20th), Carl Edwards (22nd) and Jeff Gordon (28th).
CLICK HERE for complete session results