Brad Keselowski and team owner Roger Penske were the men of the hour at the NASCAR Sprint Cup Series final night of celebration in Las Vegas, Nevada. Special award winners included Jimmie Johnson and Tony Stewart.
Brad Keselowski may not have been one of the two recent winners of the $500 million plus Powerball jackpot recently, but he felt like a lottery winner on Friday night as he was honored as the 2012 NASCAR Sprint Cup Series champion at the Sprint Cup Series Awards ceremony at Wynn Las Vegas.
"You have to buy a lot of lottery tickets to be a winner, and I feel like a lottery winner," Keselowski said during his speech at the banquet, comparing the members and sponsors of his No. 2 Penske Racing team to winning lottery tickets.
2012 champion Brad Keselowski with crew chief Paul Wolfe and team owner Roger Penske
Car owner Roger Penske was also recognized and congratulated by other honorees throughout the evening for finally claiming his first Sprint Cup as a car owner after more than 20 years of competing in the sport.
According to Penske, the reason it took so long for him to find his way to the head table at the Sprint Cup banquet was because he was working on his first two goals: family and business. He also mentioned the amount of hard work it takes to join the elite group of NASCAR championship car owners.
"You can't buy it; you can't get voted in," Penske said. "You have to work for it."
There were some awards presented throughout the ceremony, though, that were voted on. For the first time ever, series title sponsor Sprint handed out Fan Voice Awards in four categories selected by NASCAR fans.
Tony Stewart and crew chief Steve Addington of the No. 14 Stewart-Haas Racing team were presented the Call of the Race Award for Stewart's pit road fake that led to a win in the rain-shortened race at Auto Club Speedway in Fontana, Calif.
He called me on the radio and asked me to pick him up.
Other Sprint Fan Voice Award winners included Marcos Ambrose, driver of the No. 9 Richard Petty Motorsports Ford, for his win at Watkins Glen (N.Y.) International. Jeff Gordon, driver of the No. 24 Hendrick Motorsports Chevrolet was given the Hard Charger Award for racing his way into the Chase for the Sprint Cup at Richmond (Va.) International Raceway. The fourth award went to Jimmie Johnson, driver of the No. 48 Hendrick Motorsports Chevrolet, and car owner Rick Hendrick. The two claimed the #Did You See That? Award for Hendrick riding on Johnson's car to victory lane. That was the day that Johnson gave Hendrick his 200th win as a Sprint Cup car owner at Darlington (S.C.) Raceway.
"He called me on the radio and asked me to pick him up," Johnson said.
Another fan voted award was the Betty Jane France Humanitarian Award that was presented to Lorri Shealy Unumb of Lexington, S.C. Inspired by her sons fight with autism; Unumb utilized her skills as an attorney to write Ryan's Law to make sure South Carolinians with autism would have their treatment covered by medical insurance. Unumb has also been instrumental in starting the Autism Academy of South Carolina. For her work, the Autism Academy will receive $100,000 and Unumb a new Toyota Camry Hybrid.
In addition to Keselowski, the other top-10 points finishers were also recognized and took their turns at the podium to thank their sponsors, reflect on the 2012 season and look ahead to 2013.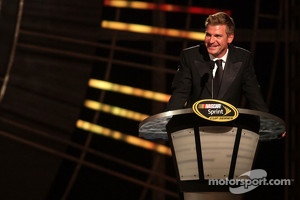 Clint Bowyer
Clint Bowyer, driver of the No. 15 Michael Waltrip Racing Toyota, fell short of the championship but still posted his best-ever points finish in second.
"It's truly been one of the best years I've ever had," Bowyer said.
Finished third through 10th in points were Johnson, Kasey Kahne in the No. 5 Hendrick Motorsports Chevrolet, Greg Biffle in the No. 16 Roush Fenway Racing Ford, Denny Hamlin in the No. 11 Joe Gibbs Racing Toyota, Matt Kenseth in the No. 17 Roush Fenway Racing Ford, Kevin Harvick in the No. 29 Richard Childress Racing Chevrolet, Stewart and Gordon.
"Our fourth year at Stewart-Haas Racing had its ups and downs, but we never gave up," SHR co-owner and driver, Stewart, said.