Get alerts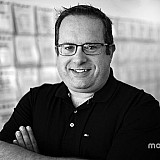 Rob Kauffman took no questions but offered a statement regarding the recent news that he purchased a stake in Chip Ganassi Racing.
In a statement to reporters Saturday at Pocono Raceway, Rob Kauffman, part owner of Michael Waltrip Racing, attempted to quell some of the rumors and speculation about the recent announcement he would be purchasing an interest in Chip Ganassi Racing with Felix Sabates.
Kauffman's status with MWR
"First and foremost, it's important to realize that Michael and I own Michael Waltrip Racing and we control Michael Waltrip Racing together, we're great personal friends. So any idea like I'm leaving or taking anything is actually misplaced," Kauffman said following Saturday's final Sprint Cup Series practice.
"What we're really doing is integrating the businesses, trying to get the most competitive product on track, do the best for all of our partners. That's really our focus. It's a competitive business as everybody knows – it's competitive on track as well as off track."
Kauffman said the reason for the statements from himself and the Ganassi organization earlier this week was "because rumors were bubbling around."
Focused on the Chase
Kauffman said his focus and that of the MWR organization should be on the remainder of the 2015 season.
"We're very excited about the developments over the summer, the teams are running well. There are hundreds of people working back in Charlotte and we want to keep them focused on what they need to do," he said.
"In terms our plans, whether we have three cars, four cars, two roofs, one roof, that's all yet to be determined. And how we do in the 2015 season will help determine whether that happens. If we do a great job, that will be one outcome. If we do less-great job, it will be another. And it should be pretty obvious to people."
Kauffman called the changes taking place "another chapter in the book" on the difficulty of the business model in NASCAR.
"Everyone knows the teams are under quite a bit of pressure. Competition is within tenths of a second that people are battling for. On the business side, it's very difficult for teams to maintain a sensible business model," said Kauffman, who is chairman of the Race Team Alliance.
Alliances needed in order to survive and succeed
"We're making some good progress on that. I think you're going to see more consolidation along the way here. You're going to see a lot of consolidation. Today, I would say there aren't really any one or two-car teams that aren't affiliated with a larger organization.
"The day you could have a lone wolf and be successful in this sport are long past."
On Thursday night, co-owner Michael Waltrip issued a statement in which he said there remain a lot of details to be worked out about 2016.
"I will work closely with Rob Kauffman and our sponsors to formulate the best way forward," he said.