Jimmie Johnson, No. 48 Lowe's Dover white Chevrolet, met with media and discussed his frustrations at the Michigan race last week, how the engine shop handles failures, working at Hendrick Motorsports, and more.
Your are fourth in points with three victories so far. With three races to go before the chase, certainly getting to victory lane has got to be at the top of your list... "Yes, it definitely is. We've clearly had a lot of speed in our race cars and from a strategy standpoint, pit stops, car performance, driver performance and everything has been going really, really well; and at the right time of the year.
So, with three to go, I was certainly disappointed in giving up bonus points in Michigan and Pocono, but there's nothing we can do about that now except look forward to the next three races and try to get some more bonus points to start the Chase."
You have talked a lot in years past about Bristol and how it was always a really a hard track for you to get your head around. And now with six top-10's in the last seven races, plus a win here, you've has success. What are the keys for a driver getting around this place? "There really has been a change and it's been with me, and the way that I drive the car. For the longest time, I was driving the track incorrectly and then we would build a set-up to support my driving style here; get into the race and things wouldn't work.
Jimmie Johnson, Hendrick Motorsports Chevrolet
So it's a tough challenge for a driver, it doesn't matter how long you've been in the sport or what you have accomplished, there are tracks that challenge each team and driver differently than others.
There are some tracks you go to and I know how to drive it and I roll right into a rhythm and I'm good and we're working on the right things. It didn't happen here for the longest time. I'm very happy to now understand how to drive the track so that we can tune the car the way I really need to drive it and what I need in the race. And that's been the difference."
After team-wide issues at Michigan last week with the motors, what process does Hendrick Motorsports go through? And do you come back with the same parts and pieces in Atlanta to see if that was some sort of anomaly or do you pull back a little bit to make sure you've got something that's good for the chase on the 1.5-mile and heavy rpm tracks? "Yeah, there's a lot that goes into it and I'm always impressed and amazed with our engine shop and how detailed they are, how scientific things really are, and the analysis that takes place after a failure.
It looks like a bunch of broken parts and pieces to me, but they are able to go through a variety of oil composition tests; they bring in a metallurgist. They understand. They can trace it back almost like CSI-stuff and find out where it started (laughs). It's impressive to me each time to watch them go through the process. Obviously we hate the failures and we certainly had some issues at Michigan.
But they're working hard on it and we won't go to the track with something that's untested and unproven. And we have multiple dynos in the engine shop, Spintron machines and a lot of different ways that we can get duty cycles on the engines and test the parts and make sure they're where they need to be. So, we were caught off guard with the issues we had at Michigan and it wasn't expected. But the guys are on top of it in making sure that it doesn't happen again."
The passion that you showed leaving the track last week at Michigan, showing your frustration, is something rare for you. What thoughts were going through your head? Also, how did you choose the black keys song 'howlin' for you' to walk out during driver intros at Bristol? "It's just a good song. I think The Black Keys are an awesome band. I actually tried to get to one of their concerts this summer.
They head to Europe before long and I'm afraid I'm going to miss them they way the schedule works out. So, I dig the song and I think it will sound great on the PA system and that's really where that decision came from. And then last week, with the emotion, there were so many levels of frustration that came through that weekend. Bonus points, we went through two engines that weekend, I lost the championship points lead which is really important to me; all that came to a head and there wasn't much else to say.
I think anybody watching clearly new I had an engine failure and that I was disappointed. So it just didn't make any sense to talk with everyone and point out and draw further attention to the engine shop that works so hard to put me on the race track week-in and week-out. I just decided to not say anything and (instead) loaded up the family and headed home. We'll load up again this weekend and try to win here."
When brad Keselowski points out that his pit crew beat your pit crew on the final stop, and then points out there are things going on in the rear-end suspensions that might be tricky, which he spoke about HMS, is brad trying to play mind-games with you? If so, how susceptible are you and Chad Knaus to mind games at this point? "He likes to talk a lot and he says a lot of things. I don't know what his strategy is. Honestly, I'm not all that concerned. He is a very strong driver (with) a very strong team; and one of 12 that will be in the Chase that we'll need to worry about. There has been a lot of discussion during the week and it's certainly coming from his post-race interviews.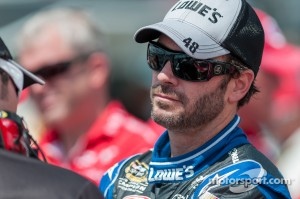 Jimmie Johnson
Everybody is entitled to an opinion, but I think you need to have your facts straight and understand what's going on. Our car has been through inspection multiple times and there's nothing out of line taking place. The pit strategy during the race, they did a great job. They've been getting amazing fuel mileage, which I think was most notable at the road course at Watkns Glen and how they were able to stretch gas and really have the option for a two to three race fuel strategy; which from our standpoint, we only can do a three-race strategy.
They were smart with their fuel mileage and did a great job of getting out of the pits; and we missed it. We thought we were the leader and that the No. 88 (Dale Earnhardt Jr.) was second. So I let him go, and didn't think much of it; and then four or five laps later, Chad (Knaus, crew chief) is like hey, I've got some bad news for (laughs), you've got to go get 'em.
And we were able to get to him before the caution and then after the caution, got by. But the Chase is going to be very interesting. I think the fans are going to have a very interesting 10 weeks. There are going to be 12 very capable teams going into that championship (run) and I'm worried about all of them."
It's commonplace in other major sports that if an athlete fails a drug test, he serves a suspension but is almost always welcome back to the team. That's different in NASCAR. Why is it different? Do you feel like you are held to a different standard because you are so closely aligned with sponsors? "I think I follow the question, but could you ask it again; maybe more in-depth? Just per NASCAR and what goes on in our sport?"
I'm trying to compare what happens in NASCAR to what happens in other sports. In other sports if an athlete fails a drug test he's likely to be suspended, and returned to the team. If a driver fails a drug test in NASCAR, it's not that quick. And they may never get a job again. So why is NASCAR different? Is it because the drivers are so aligned with sponsors? "I see. I believe it's all due to sponsor. When you play on a team for a city, you're in a sense kind of behind the front office and a part of whatever organization you are; you're not the front person and the one that is endorsing sponsorships.
If you play for the Braves, it's not the 'Lowe's Home Improvement Braves', you know what I mean? There's that different element there. And you're one of many on that team, which I guess that correlation exists in NASCAR, but it's different because we are the front. We are the face of that sponsor.
When we're competing, we compete kind of as an individual on track versus many on the team. And it just boils down to paying the bills. I guess if you are a fortunate one that can own your own team and drive for it, you could probably weather the storm and handle things differently; but that situation is so rare that it all boils down to the sponsorship element."
With all the talk about the rear-end housing, are you concerned about NASCAR making any more rule changes in that area? Or do you just work as long as it's legal and if they say you can't do it anymore, you just adjust after that? "Yeah, that's all we can do is work the rulebook and what the rules state. Whenever NASCAR changes the rules, I think it helps us out in particular. We're able to find speed and work through new challenges usually quicker than others. So, whatever the rules are, we're ready to go to work and figure it out."
Talk about having Rick Hendrick as an owner and what you like about him and what he makes possible for you to do... "Well, there's obviously the great history to Hendrick Motorsports and the winning history that exists there is the first thing that comes to mind. But then also the culture that exists at Hendrick Motorsports and it's really Rick's leadership that's created that.
Jimmie Johnson, Hendrick Motorsports Chevrolet
We all know how great of a man he is and how caring and understanding and helpful he is in so many ways to individuals that work on the team that have tragedy or illness or something going on in their lives, to many others outside of Hendrick Automotive Group or Hendrick Motorsports for that matter.
He's a guy that we all look up to and want to be more like. Working for him, he inspires us all and somehow finds a way to bring the best out of you and that's a huge attribute for a company and it's all on him. He's a great 'people-person'. He gives us all the tools we need and certainly has high expectations, but he knows how to pull the best out of everyone."
Why do you think Jeff Gordon reacted the way that he did in the race at Michigan when he was racing dale Earnhardt, Jr.? How does your expectation of teammates compare in competition to everyone else you are racing? "I haven't really seen much of last week. With my frustrations after the race, I probably didn't want to tune-in or watch much anyway (laughs); so I just stayed away. I know Jeff was upset with Junior.
I sat in on a meeting Tuesday at Hendrick Motorsports and both were there. And I couldn't sense an issue anywhere. When we put our helmets on to go to work, we sometimes take our brains out and put the helmet on (laughs); there are all those correlations, you get the red mist in the helmet and things ignite you and there's plenty said on the radio that drivers regret saying and especially when you hear them played back the next day. You're like, man, why did I go off like that?
So, I assume there are levels of that in there. But when you're around teammates on the track, at times maybe you think you need more room or you deserve more room and overreact to situations. I'm guilty of it. I think all teammates are that have been through it over the years. But you've got to communicate. You have to talk.
And that's the culture of where we work. Again, looking back to the Tuesday meeting that we had, those guys were just fine in the same room talking about race cars. So, I think it was just a heat-of-the-moment situation on the race track."
Source: Team Chevy Racing