Jimmie Johnson Tuesday Teleconference 3/15/2011
Jimmie Johnson, driver of the No. 48 Lowe's Chevrolet Impala spoke with the media about the race at Bristol Motor Speedway, his goals for 2011 and other topics.
Q&A's WITH JIMMIE JOHNSON:
WHAT CAN WE EXPECT TO SEE AT BRISTOL THIS WEEKEND?: "I'm just excited to go back. I think we were in position in the fall race to fight for the win and race with Kyle (Busch). I feel good. After we won in the spring and coming back in the fall, just didn't want to be too full of myself. Wanted to be able to go there and run well, but we backed it up there in the fall and had an awesome weekend. Unfortunately we crashed late in the race on the back straightaway. Looking forward to going back. We're sitting decent in the points, but a good run at Bristol would move us in the right direction in the points. Look forward to going back."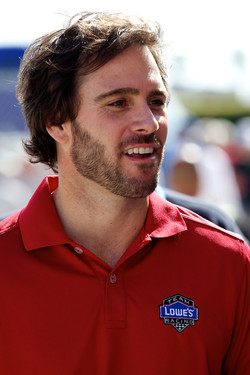 Jimmie Johnson, Hendrick Motorsports Chevrolet
CAN YOU TALK ABOUT THE HOPE OF THE UNDERDOG DRIVERS THAT SHOW UP TO THE RACE TRACK EVERY WEEKEND?: "I've been through it all and I think that my values, the reasons why I started racing carried me through the tough moments. I was at points in my career where I had come to grips with the fact that I wouldn't have a dominant position in our sport and maybe not win a race, maybe not win a championship. I've been through all those various stages and the thing that kept me going once again was just my desire, my beliefs and the reasons behind being a racer started when I was four or five years old. That feeling has carried me through it all. I fell in love with my sport many years back and it's really what it boils down to. You learn a lot through those lessons as well. It's easy to have and experience success -- I think that my personality also reflects a lot of the tough times I went through in my younger years. It's brought me to where I am today and hopefully people perceive me as a humble guy. A lot of that is the hard road I went down to get to this point. I guess my advice would be to follow what your heart is telling you and have the right things motivate you in life. It's about being a better person and doing a better job and maybe not so much about looking too far down the road at the big trophy or whatever it might be."
WHAT PROMPTED YOU TO START TWEETING AND HOW DID YOU TAKE TO IT SO QUICKLY?: "I guess I've known in the back of my mind that I needed to be more current with Twitter, Facebook -- a lot of those things that media that really connects to the fans. Our Facebook page has been extremely successful and we've done a very good job there providing good content. But to go to that next level -- Twitter is that space. Kristine (Curley, Lowe's PR) has been active on that @DoubleJ48 account and we're in a bit of a limbo stage right now trying to get everything squared away and get me out at the handle @JimmieJohnson. Then Christine will hopefully be at the handle she has been in the past so we can both tweet and kind of have Kristine give the updates she has done in the past and allow me to have my opportunity to do my own thing on my own site, handle or whatever it's called. Kristine got my phone setup and handed it to me and said, 'Go, give it a try and see what you think.' As I got involved and had some fun responding and replying, it's just a cool space. I kind of regret that I didn't start sooner, but look forward to making up for lost time once we get this whole -- I've been joking around calling it Twittergate -- get this whole situation handled and under control. It's taken much longer than we ever thought or hoped it would."
WHAT HAPPENED AT LAS VEGAS?: "I think if I look back over the course of Vegas and Phoenix, we didn't have the consistency in the weekend from start to finish that we wanted. At different points in the race, especially in the race and much later in the race, we had a competitive car. At Phoenix we finished third and Vegas we worked our way into the top-10 and rebounded from just a miss on the setup. We're still developing our cars and without testing, we're bringing a lot of new stuff to the track. You don't know until you get in the race situation how it's going to work. Chad (Knaus, crew chief) made some great adjustments on the car to get us in contention, worked our way up to the top-10 and we had some issues late in the race, but we made it back. I left there really disappointed that we didn't finish inside the top-10. I felt like we had a shot at the top-five. That would have been a huge success from really how the race had started and working through that. We're developing our cars and its going -- there's no quick fix. It's going to take time and until we get our cars back to where we want them, we need to really focus on finishing in the top-10 and to keep up the points so that we don't find ourselves in a big hole."
We're still developing our cars and without testing, we're bringing a lot of new stuff to the track.
IS THE BRISTOL CAR ONE THAT YOU ARE STILL DEVELOPING?: "Fortunately the short track stuff -- over the years it does migrate a little bit toward the new technology, but Martinsville, Bristol -- it doesn't change. Guys joke around that their Bristol setups that they're running today is what they ran in the 90s with the old, old car -- Luminas and stuff like that. Some tracks, especially where down force isn't involved, there's very little change over the years there's more change due to tires and the evolution of the tire than much of anything else."
HOW DO YOU VIEW THE NEW POINTS WEEK TO WEEK IN CLIMBING BACK UP?: "I'm still learning as we go as to what or how difficult it is to climb your way back up. When I look at our situation, I feel like if we were to finish in the top-10 like we hoped at Las Vegas then we would be right there in a comfortable position inside the top-10. I think we're all still learning as it goes and I think Jeff (Gordon) has made the comment that the overall concept of the points is still very similar. You need to run well. I've seen a lot of decent finishes by drivers and really a lot of the teams. In the beginning of the season you can move quickly up or down, but as we get going here I think you will see people stabilize. The guys you expect to be high in the points will be -- there's a lot of moving and shaking early in the season on top of an inconsistent year for a lot of teams."
DO THE POINTS LEAD PEOPLE TO BE MORE AGGRESSIVE?: "I haven't focused too much on the system. I just know I need to run well. Top-10s, top-fives correct all the problems. I haven't spent a ton of time considering the system, blaming the system, thinking about the system. I just know that we finished terrible at Daytona, good in Phoenix and fair at Vegas. At the end, I'm fair in the points is really the way I'm looking at it."
HAVE THE NEW FUELING CANS CHANGED ANYTHING FROM A DRIVER'S STANDPOINT?: "I think getting in the box and hitting your marks and staying stopped or having a system choreographed where the car starts rolling with the fuel man walking. The interface of the can and the car is so important. If it is slightly skewed, it just screws everything up. There are some dos and don'ts as a driver and the driver, gas man -- that interaction, does the gas man want to walk with the car as it starts rolling, does he want to stay put? There are some things there that the teams do differently. From my standpoint, the stops, it takes some pressure off of the tire changers because you're in most cases you're on a full tank or two cans and you're waiting on the gas man."
WHO ARE YOU TAKING YOU CUE FROM TO LEAVE PIT ROAD?: "For me, it's listening to Chad (Knaus, crew chief). The last thing I want to do is leave the pit before I'm supposed to. If there's a problem, not to leave the car full of fuel. You lose so much more track position if you get a partial fill on the car and before you go back to green you have to come back in and put gas in it. You might as well take your lumps there. The same goes with the tire changes themselves. You're better off to spend the time putting the lug nuts on then hoping you can leave pit road and NASCAR won't pit up on it then to be called back into the pits and lose all your track position."
BEFORE THIS YEAR, WERE YOU GOING OFF WHEN THE JACKMAN DROPPED THE CAR?: "Before it was on the jack. Two tire stops were a little different, especially at Daytona at Talladega. But now, it's really a cue off the crew chief. Where in the past, that jack dropped and it was the jack man's fault that a lot of people had that overall impression that the car is down and the driver is going. Now it's a little different."
Jimmie Johnson, Hendrick Motorsports Chevrolet
HOW WOULD YOU DESCRIBE RYAN NEWMAN'S PERSONALITY?: "Ryan (Newman) and I came in as rookies in the same rookie class and he clearly has speed and has done a great job over the years winning the 500 and doing a lot of great things in our sport. That team certainly has shown some strength and is building. You look at how he worked with Tony (Stewart) through the Chase last year -- Tony had a lot of great things to say about him and his participation in helping his teammate. Ryan does his job, he knows what to do. Personality-wise, he's kind of more of a quiet guy. I guess it depends. If you're in the right situation, he's plenty talkative and his sense of humor comes out. He's not the first guy to run off to a gathering of people and jump in the mix and talk. He's a bit reserved and thinking things through and has done a great job surviving in the sport over the years."
WOULD YOU SAY RYAN NEWMAN IS A BIT OF A 'SMARTASS'?: "In the right setting. I've been with him in different groups of people, some situations he won't speak. Other situations, he'll have everybody on edge with pranks or whatever he's trying to pull off."
WAS SPECIFIC GOALS OTHER THAN WINNING A CHAMPIONSHIP DO YOU HAVE THIS SEASON?: "Truthfully, I look at the four tracks that we haven't won at and I would love to be first to do that and win at all tracks. I think (Jeff) Gordon and (Tony) Stewart are down to like one. I have a lot of winning to do if that's the case to catch those guys. Or beating them to it. That's certainly a goal. For me, I just want to be competitive. It is so tough to be competitive year after year. We've clearly done it for the last five and really for the last nine. The worst we've finished is fifth in the points. Yes, I want to win the championship, but at the end of the day working through tough times and coming out and being successful on the other side are the most rewarding moments of the sport. In '08 we went through a big slump in the start of the year and came back and won. This year we're working on some new stuff and trying to get better and grow as a team. That journey, there's a lot of pride in that once you're able to climb the mountain and we're going through that now. I know we'll be competitive and be where we want to as the year progresses. Really going into Bristol, I think we'll have a great shot to win there."
CAN YOU COMMENT ON RICKY CARMICHAEL AND HIS JOURNEY FROM MOTORCYCLE RACING TO NASCAR?: "I've tried to be there as much for him as I can. I was fortunate, I had an intermediate step to get me onto four wheels and I was still sort of on the dirt jumping, which was off-road truck racing. He is going from a three-dimensional world down to a two-dimensional world of stock cars. When you take the jumps and stuff out of it. He has a very tough challenge ahead of him, but I think when you grow up racing on the dirt and especially in motorcycles, you learn how to adapt and you learn how to challenge yourself. You overcome fear and you overcome a lot of issues that kind of get in the way. I think in time Ricky (Carmichael) will be just fine. I think he's shown a lot of hope, a lot of promise week after week. I know he's had a lot of bad luck here of late, but I think he's great for our sport. I hope he doesn't lose hope. It took me and I keep telling him this, I had two years of ASA then two years of Nationwide just destroying cars and tearing them up before I got in a Cup car and had my chance. Hopefully he'll stay patient and I know he'll be able to survive."
DID YOU GET TO SEE MUCH OF RICKY CARMICHAEL IN MOTORCROSS?: "When I was racing, he was in the lower classes coming up through and everybody talked about him. He was obviously a short guy so as a kid there was this really short kid flying around tracks just destroying everybody. Jeff Ward was another rider who was similar in height that people kind of spoke about. Ricky was the next Jeff Ward, small guy, but plenty fast and had the strength to overcome the size deficit and was going to be the next guy. Sure enough, he lived up to that. I didn't race against him or his brackets were far enough apart that I got off the bike kind of early teen years and never had the chance to race against him. I knew about him and never met him even in the entry level."
I think we all grew up having heroes and especially within racing you just know who the big dogs are in other sports.
WHAT IS THE CROSS OVER LIKE WITH OTHER FORMS OF MOTORSPORTS?: "I think we all grew up having heroes and especially within racing you just know who the big dogs are in other sports. I made some comments, I was blown away, I met (John) Force a couple times in the past before the race started in Homestead, he came by and shook my hand and wished me luck. He came out of his way. He had to get through the crowd and came over to wish me luck. Of course, I know who he is. That meant a lot to me. The funny thing about Force, I asked him, 'So, how did your deal turn out?' He said, 'Oh, we won.' He says, 'I know you're trying for a fifth, but I won 10 now and good luck.' I just found it really cool and funny at the same time. He just nonchalantly blew it off. Just, 'We did, we won another won and we won 10.' I've always known him and I'm just proud of him as an individual to carry the sport through a lot of years. You think about drag racing, Force is one of the first names you think of especially in today's era. I have a ton of respect for him. I ran into him again in Vegas. I had said some things about him in the press in that moment down in Florida and he was just blown away that I would mention him and the sport and paid me a bunch of compliments and I did the same back. Had the chance to meet his youngest daughter who is coming along as another driver and just hung out a little bit. I hope I can come to a race, I have some other friends in the drag racing world. I would love to see them and go down the strip, but I just have to find the time to do it."
WHAT IS SO DIFFERENT THAT YOU ARE WORKING ON THE CARS THIS YEAR?: "We do always kind of evolve the cars looking for speed. The next area to get the car more grip or the back of the car trying to get it deeper in the race track. We're always doing that. There are some years where you spend the off season working in all the right areas and you go to the track and you've got a ton of speed. This year just hasn't been that way. Last year in the Chase we spoke about it a lot where we didn't have the pace that we wanted. We were competitive, but we were in a space mentally of the way our cars had been for quite some time. The overall concept of our setups. We had perfected it and it was kind of at its limit so this off season we worked hard to reinvent our mouse trap to make it faster and worked in some areas that we had not overlooked, but just didn't feel a lot of gains in the past, but maybe we didn't go far enough. We're working with a different mindset at the start of the season just to see if there's anything there. At times we see speed and hope and at other times we haven't. It does remind you of our '08 year where luckily then we could test and we tested a ton to get our stuff right to be competitive. This year, we don't have that luxury. We have to do it at the track. With points on the line and a magnifying glass on our team. We're eagerly awaiting for the speed button to show up so we can push it and get more."
CAN YOU EXPLAIN HOW YOUR OVERCOME FEAR IN MOTORCYCLE RACING?: "On a bike, when you come into a turn, if you go in there too fast, you don't spin out. You fall, hit the ground and break a bone, even in a corner you can hurt yourself pretty bad by hyper extending a knee, break fingers, hands, fall on the handle bars -- there is a variety of things that can happen. Mentally, in order to push that line and make mistakes on a bike, it takes a lot more courage and really having to adapt to fear and push yourself through a threshold. Sometimes you push right through the threshold and the grip is there and you're like, 'I was chickening out this whole time.' I had this in me all along. The same thing goes with the car, but you spin one out, you hit the fence or maybe you don't hit and that didn't hurt. I'm cool. On a bike, even in the cars as you grow up you learn how to become more comfortable with fear. On a bike, you're on such a fast or steeper learning curve to balance the fear and decision making. Fear makes decisions for you. On a bike, you just get comfortable and the risk is so much higher, the penalty is so much higher if you mess up that you just get more comfortable with it. I find that motorcycle riders are some of the bravest guys out there and it helped me moving forward because when I would watch another driver do something, it wasn't comfortable in my car to do it. But I thought if he could do it then I could do it. That was my approach when I was racing bikes as a kid. Another kid in my age bracket was jumping the double jump so it could be done. I need to go do it. I think Ricky (Carmichael) has gone through all that as well in bikes."
Jimmie Johnson, Hendrick Motorsports Chevrolet
DID BIKES HELP YOU OVERCOME FEAR IN THE CARS?: "Absolutely. In the Truck Series and the way those guys have to run flat out around the race track, if Ricky (Carmichael) hears that you have to run flat then you know he's not afraid to go out and run flat around Vegas, Atlanta, whatever it is. He's going to try it. Just because of his background."
IS THAT WHY YOU TORE UP SO MANY CARS EARLY IN YOUR CAREER?: "You don't know about that line until you step over it. It's a tough thing and it takes years to work through a lot of those dos and don'ts. I also had that off-road step in between where I got used to a big vehicle and horsepower and the fact that you're not standing on the bike. A rider on a motorcycle can make up for so much of the bikes handling just by his strength. I would say your strength and conditioning is far more important than the type of bike you ride or your shock setup or tire selection. In a stock car, you're strapped in that thing. There's a whole different art to learning how to stop adapting so well and actually complain about your car, where it's uncomfortable and what it's doing wrong. On a bike, you can com e in and complain, but everybody knows that your scared or you're out of shape. It's pretty simple. It's tough to work through that as well."
WHAT IS YOUR MAIN GOAL OF BEING A PROFESSIONAL RACE CAR DRIVER?: "We've had a good run with winning the five championships. Certainly want to keep that going. Winning races each year is the first priority I guess. In our sport we have our championship battle where the first 26 races set us up for the Chase for the final 10 and you have to be in the top-10 now in point to guarantee yourself a spot into the championship playoff system. I go through those steps -- I want to win a race, I want to make the Chase, then I want to be competitive in the championship and then hopefully win another one. There's a lot of responsibilities that go along with being a driver on and off the track. Representing our sponsors, our team, our sport, especially as a champion, your voice is heard a lot more. Making sure that I'm wearing each hat and being productive and trying to evolve as a person, as a driver within our sport."
DO YOU HAVE A LIFE PHILOSOPHY?: "I guess my philosophy would be to always give 100 percent. That's one thing I've had to do through my career before I had the success I had to apply myself, it seemed like more than others to get the results and I'm glad that happened because I have a better work ethic today from it."
-source: lowe's racing