Dover International Speedway
JIMMIE JOHNSON, NO. 48 LOWE'S CHEVROLET, FASTED IN PRACTICE TO SECURE NO. 1 STARTING POSITION:
MODERATOR: "Qualifying for tomorrow's FedEx 400 Benefiting Autism Speaks has been canceled due to weather. We are lining up based on the rule book, which is by practice speeds. We have joining us today in the Media Center, Jimmie Johnson, who will sit on the pole for Sunday's event.
"This is the first time this season that we've used this system of lining up by practice speeds. Talk about what it's like with this new system in place here at Dover."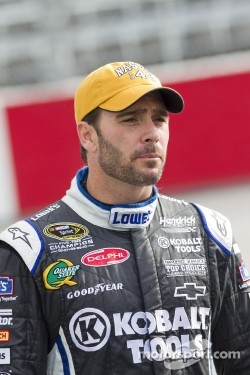 Jimmie Johnson, Hendrick Motorsports Chevrolet
JOHNSON: "Well this new system definitely requires some thinking beforehand coming into the race weekend and paying close attention to the weather. We elected to start in race trim yesterday and the first run on track was really strong. I think it had us third at the time and ended up being fifth overall with guys in qualifying trim. So when we saw that speed and the threat of weather, we at that point switched into qualifying trim and worked really hard to outrun this guy (A.J. Allmendinger,starts second). He put up a huge lap time. It took me two or three tries to finally get it. And it frustrates him a little bit to be beaten by a thousandth or two (laughs) but we worked really had to try to outrun that lap he ran and got a 69 versus a 70 and it ended up paying off.
"So it's just a challenging program now, or a routine, because when the track is cool and green you're probably going to run your fastest lap. And with two practice sessions and the time that they start, you really have to play your strategy coming into race weekend for how to post a lap and then to maximize your tire allotment that we have. It's not an easy job and it changes every week. I don't feel like we have a very good handle on it, although things worked good for us this weekend, but it all really depends on that first time on-track and if you're close. If you're close, you have a flexibility to work the system. If you're off, you're dealing with a long couple of practice sessions."
WHAT'S YOUR LANE CHOICE AND WHO'S GOING TO LEAD THE FIRST LAP, A.J. OR YOU? "I don't think either one of us are really concerned with the first lap. It's that 400th lap that we want. You've just got to get the race started. And I think we're both in a position with fast cars; the long run is really the key here, especially during the middle part of the race. It is what it is. We'll get going and take off.
"Kyle (Busch) seemed to make the outside lane work a lot yesterday (in the Camping World Truck Series Race), and then for the final restart he took the inside lane. It just depends on how you accelerate and you really don't have the advantage as the leader to accelerate when you want for that. For the initial start it's based on the flagman, not on the driver. So that first lap, I mean sure, it's great to get the point and the lead and that kind of thing, but it's just not worth getting all charged up for. And you don't have the opportunities you would on another restart."
YOU'VE RACED CLOSE WITH A.J. ALLMENDINGER BEFORE AT RICHMOND AND DARLINGTON. WE'VE HAD A COUPLE OF BREAK-OUT FIRST-TIME WINNERS THIS YEAR. WHERE DO YOU THINK HIS PROGRESS IS DURING THE TIME HE'S BEEN ABLE TO RACE FULL-TIME IN CUP? "I think he's done a great job. I've watched him through his open-wheel days and thought that he brought a ton of excitement to open-wheel and the dominance he had there. In watching him before I ever met him, I'd tune in to watch him run a race in open-wheel. I commend him for coming to Cup and taking to it as he has. Over the years, he's been probably the better car out of that organization and runs up front. This is certainly a great track for him. And I think I said yesterday before we got into practice that I thought the No. 43 was going to be a car to race for the win and for the pole. So, it's a great track for him and he's done an awesome job adapting to these cars. I can only image going from something that created so much downforce and was so fast, to driving something less. We've seen a lot of open-wheel guys try it, and it just takes time. Between his progression and also to Juan's (Montoya), they are by far the best two that have ever left that industry to come to this one."
... the long run is really the key here ...
WHAT DOES THE FACT THAT YOU DIDN'T GET PRACTICE PLAY OUT FOR YOU? "Practice?"
YES, YOU GOT A LIMITED PRACTICE, RIGHT? "No, we ended up getting in all the practice yesterday. At some point through practice the team has to decide; well I guess you don't have to run a qualifying time in practice. You could stay in race trim. But if things are going well, you will switch over and try to post a lap. We unloaded well and were able to switch over right away into qualifying trim and then post our lap. So we ended up doing what we needed to. The last couple of weeks, we've showed up pretty far off this year in general starting race weekends. And when you show up far off, it's just a struggle to get it right. You're trying to post a lap time in Q-trim so that you can go out at the right time in the qualifying order, but now you're taking 30 minutes to switch over to qualifying trim and then you have to switch back and that eats up an hour of time on track. It's a challenge. If your car is close, you can work the system well. But if you're pretty far off, it's not very forgiving, which is fine. We've just got to pull our boots tight and get to work."
DID YOU SHOW-UP BETTER THAN YOU THOUGHT YOU WOULD OR CLOSE TO WHERE YOU WANTED TO BE RACE-TRIM WISE? DO YOU FEEL YOU HAVE A TOP FIVE WINNING CAR? "I've been bold with the team before and said yep, we've got a race-winning car and then it doesn't pan out. So to leave myself some room as a driver, like we don't want to accept responsibility at times, I just aim for a top-five car (laughs). And we have a top-five car right now. Lap-tracker shows better than that, but the one thing here for us, there's just something about this track that I like and know. And from a set-up standpoint, we know what works for us.
"Even though things change, this track likes certain things, certain things in the set-up, certain ways to drive it, and we unloaded and we had the fortune of Jeff (Gordon) doing a tire test here so we had an idea of the balance and where it would be and knowing Jeff's balance versus mine, and made some very smart decisions to come in. So, we feel very good about our car. It reacted to changes yesterday and posted some fast times in race trim and qualifying trim and I feel that we've got a car that we want."
ON HOW PRACTICE WENT FOR HIS HMS TEAMMATES "I think those guys were working through some issues yesterday. It didn't go as they had wanted. Mark (Martin) felt really fast, but the lap times didn't show it so he was a bit confused. And I think that (Dale Earnhardt) Junior was pretty happy about it."
Dale Earnhardt Jr., Hendrick Motorsports Chevrolet
***
DALE EARNHARDT, JR., NO. 88 AMP ENERGY SUGAR-FREE/NATIONAL GUARD CHEVROLET, STARTS 3RD:
ON QUALIFYING BEING RAINED OUT AND FIELD BEING SET BY NEW SYSTEM OF PRACTICE TIMES: "It has a different way of working and have to run some great laps in practice to set yourself up with a decent position in qualifying order. If qualifying is rained out, you get the opportunity to start with how well you practiced so there is still a sense of accomplishment even when qualifying is rained out with where you start the race. It is different but it serves its purpose and it does make practice a lot more interesting in the garage as you are trying to kind to manipulate the system the best you can to make it an advantage for you."
DO YOU HAVE A CAR YOU CAN TAKE TO THE FRONT AND ARE YOU HAPPY WITH YOUR CAR? "I was pretty happy in the first practice. The second practice we got a little bit away from the handle. We struggled just a little bit with things the car was doing. We know the direction we need to go based on how Jimmie (Johnson) is and what we saw in the first practice and the changes we saw that helped the car all day long. Jimmie is really, really, really fast. If anybody beats him Sunday, they've done a heck of a job because he is just really a couple of tenths quicker than the rest of the field. I felt like our car was pretty decent in practice. We needed to gain a little bit and we made some gains. We found a couple pieces of the puzzle that really helped us. Hopefully we will make the right call and the other things that we are not quite sure on. We've got a few things that we just sort of have to go with our gut on and hopefully that works out for us."
HAS THERE BEEN AN AH-HA MOMENT WHERE YOU REALIZED THAT THE RELATIONSHIP YOU HAVE WITH STEVE LETARTE AND THE CREW WAS WORKING OR IS IT JUST A STEADY PROGRESSION? "I think it's just been taking it one day at a time and just going to the race track and keeping the communication going; telling him what I think is going on and trying to sit down and give him the time in the day to give me his input. I have been spending a ton more time around the hauler and just trying to keep that relationship and the communication really. Just keep the communication and when somebody has an idea, I want to be available and be present when that stuff is discussed and talked about inside the hauler, I want to be a part of that communication and that discussion. I just think we have been working on that ever since started. We had a really good off season once we knew what the plan was. Steve took the steering wheel and drove us to Daytona as a team. He headed the ship all the way until we got to the race track the first time and I just followed his lead then we got into racing. It has just kind of been a slow progression."
WE'VE SEEN TWO SINGLE CAR TEAMS WIN THIS YEAR AND COMPETING MORE AND MORE, WHAT IS THE REASON FOR THAT? "I think the COT leveled the playing field quite a bit. Teams and companies, crew chiefs, engineers had worked with one car for so long, they had plenty of tricks up their sleeves to make that one car go fast. This new chassis and the guidelines that NASCAR has that come along with that chassis with having to take it over to them to have it okay'd and anything kinda new coming into the fold, you have to really run by them first and any ideas you have. They have I believe a better structured technical process, inspection process with this car that helps them find them find things that aren't allowed in the sport. It just keeps everybody in a tighter group and keeps the competition and the numbers and the lap times much closer."
-source: team chevy