Dover International Speedway
JIMMIE JOHNSON, NO. 48 LOWE'S CHEVROLET met with media and discussed 'Boys Have At It', upcoming races at Charlotte, what he likes about Dover, penalties, and more.
Jimmie Johnson, Hendricks Motorsports Chevrolet
ON RAIN FORECAST FOR DOVER THIS WEEKEND "It challenges us on what our decisions are for today's practice. If we go out and work on race trim; well, you kind of need to do both because you need to post a fast lap and then at the same time you need to work on race trim because the race is so important and this is our only practice session. And it takes a lot of time to switch over from qualifying trim to race trim and we'll see some people maybe go back and forth two to three times, just trying to maximize the amount of tires that we're given. So today is a challenging day and this new schedule is still being kind of understood by everyone with the best strategy. And then when you have rain coming for tomorrow, it puts another wrinkle in things."
KEVIN HARVICK AND KYLE BUSCH ARE LIKELY CONTENDERS FOR THE CHAMPIONSHIP THIS YEAR. WHEN YOU SEE THE FIGHTING BACK AND FORTH, DO YOU SORT OF SMILE WHEN YOU SEE THE DISTRACTION THAT MIGHT CAUSE OTHER TEAMS? "At times, yes. I remember being here in the Chase and watching the No. 11 (Denny Hamlin) and the No. 29 (Harvick) going at it. At that point in time, yes. But now, the championship implications haven't crossed my mind because it's so far from now; things seem to get rectified in 2 to 3 weeks. So I haven't thought of it in that perspective. It was exciting seeing discussions about it in major newspapers and the social media world; it's been everywhere. So you hate to see somebody potentially injured and the stuff on pit road is really the sore spot of all of it. But it was exciting. It gave us all a lot to talk about. If something like that happens in the Chase, It certainly will affect those two drivers there, but we're too far away from it now."
THIS TRACK FITS YOUR STYLE. WHAT IS IT ABOUT DOVER THAT YOU LIKE? "The concrete adds a dimension that we don't typically see. The high-banked corners and the transition from the straightaway into the corners; doing in, you come down the hill and go into the turn and then you kind of climb back up. It reminds me a little bit of my off-road days and controlling the vehicle through a vertical motion coming into the corner, up over the hill and trying to land. And also control the lateral forces that we see in the car. So that dynamic I enjoy. I really like this track. Our race wins and finishes kind of back that up. So, I'm looking forward to another great weekend and I would love to hopefully get a win and get some more points. I'd love to be leading the points right now. We've been in second here for a few weeks. The No. 99 (Carl Edwards) pulled out a little bit on us last weekend. I'd love to close that up and fight for that top spot."
... I'm looking forward to another great weekend...
GOING TO CHARLOTTE, YOU SAID YOU HAVEN'T HAD THAT SAME FEEL THERE LATELY. HOW DO YOU FEEL ABOUT IT NOW? "When they put that new surface down we lost the advantage we had. We still seem to run well there. We've been in contention and have been in the top five and been running well. I think we had a great shot to win last year's All-Star race and led late and I think we had a problem on pit road and came out third; and restarted inside of the No. 11 (Hamlin) and spun out with I think just a lap or two to go. It was one of those make-it or break-it moves. I needed to get by him if I was going to have a shot at the No. 2 (Kurt Busch), and I just didn't have that opportunity. So I just went out and went through the grass off of Turn 4 down the front stretch. So, we're there. I enjoy that track. The old track, and how rough it was and abrasive it was, really fit my style. We had a great set-up for it and I knew how to drive the track. The rougher the track, the better in my opinion; I seem to do better at those tracks. So, in time, the track will get there. It changes a little bit each year and we'll see where it is now. But I'm looking forward to it. There's nothing like being home. Our All-Star race is a true all-star event. I'm very proud of our sport and Sprint and what they've done with that event. Everybody is charged up for it and then we roll out of that into one of the biggest weekends in motorsports, period. So it's a good couple of weeks coming up for us."
RICK HENDRICK RECENTLY SAID HE WAS THRILLED THAT HIS TEAMS DIDN'T HAVE TO GO TO THE NASCAR TRAILER. HAVE YOU BEEN THERE BEFORE? DO YOU UNDERSTAND ALL OF THE RAMIFICATIONS OF PROBATION? "I think I understand the probation. I think I was under it once, maybe. I can't really recall. I've only been called there a couple of times; once with Kevin (Harvick) and once with Tony (Stewart) if memory serves me right. And I think in one of those circumstances I was possibly put on probation. I think we're all understanding where those limits are. Rick had a good group of drivers that understand the business side as well. So I think it's kind of outside of the box for us, in Rick's mind, to get into trouble and do the wrong things on track; although we're all capable of it if you're mad enough (laughs). But Rick loves that passion in his drivers and we find ways to rectify our problems in situations. And I know we have the support, whatever it takes, to do our jobs."
TONY STEWART AND KEVIN HARVICK HAVE SAID THAT THIN NASCAR NEEDS TO BE MORE CLEAR ON THE RULES. ARE YOU CLEAR ON WHAT THE RULES ARE IF YOU HOOK SOMEBODY OR PUNCH SOMEBODY? DO YOU THINK THERE NEEDS TO BE MORE CLARITY THERE? "I think we're all in a gray area where we know that in the past, that things that have been done, penalties would equal suspension potentially and probation for sure. And now we're in this gray area and I think that NASCAR is still trying to feel it out. There's a point there where it's 'have at it, boys' and then there is crossing that line. And I know exactly what Tony is speaking about and he's right, where you would like some clarity. But I think as a group, we're trying to understand what that really is. We don't want the on-track stuff to be a wreck-fest and to take the competitive spirit out of it. And at the same time, you can't have people in harm's way on pit road. So I think our clarity is developing as these incidents come along. As a competitor, you want to know where that line is and what's allowed and what's not. So I definitely understand where Tony is coming from but I think it's a progress in motion right now."
SUNDAY IS JIMMIE JOHNSON DAY. MOST PEOPLE WHEN THEY GET A DAY GO OUT TO DINNER OR SOMETHING, BUT YOU'VE GOT TO WORK. TELL US ABOUT IT "I hope to reward myself with a win (laughs) on Jimmie Johnson that would be pretty awesome. I'm definitely honored to have that bestowed upon myself and have it be Jimmie Johnson Day and I'd better make the most of it."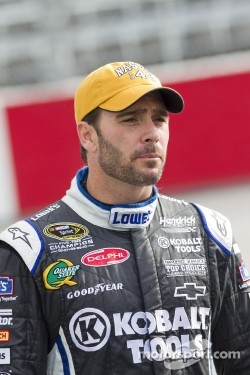 Jimmie Johnson, Hendrick Motorsports Chevrolet
ON THE HONORS THAT ARE COMING DOWN THE LINE NOW, ARE THEY THINGS YOU MAYBE NEVER THOUGHT YOU'D GET? "Yes, especially in the state. In California I would think something like that would happen but it's a big honor, for sure. And the AP Athlete of the Year award meant a ton for myself and our sport and then the latest award we received through Forbes Magazine and being the 'Most Influential Athlete' was another huge feather in my cap and for our sport's cap. When you look at it, three of the top ten were NASCAR drivers, and at Hendrick Motorsports for that matter. It says a lot about our sport. We're on the map and our sport is continuing to grow and we're in the forefront in sports fans' minds."
TALK ABOUT THE LENGTH OF THE COCA-COLA 600 AND GOING FROM AFTERNOON UNTIL LATE NIGHT; AND HOW MANY CHANGES YOU HAVE TO MAKE ON THE RACE CAR AND THE CHALLENGES FOR YOU AND YOUR TEAM "Regardless of surface, that track is still challenging. It shows up in different ways. The temperature of the track and the rubber going down changes so much from the start to the finish; and really, from when we make decisions based on our set-ups in Happy Hour. That track goes through a bunch of changes. You have a Nationwide race and then all of our stuff day to night. So it is a handful. And you find that the winning car is usually un-drivable at the start of the race and you just have to nurse it along and not make mistakes. And I've made a few mistakes here of late. I've spun out a lot off of Turn 2 and I really hope to not do that again (laughs). But it's a challenging track and a challenging event when you have such a fickle surface to race on. It really is."
ON THE GRAY AREA, KEVIN HARVICK SAID HE DOESN'T WANT TO BE THE NEXT GUY. DO YOU THINK THE PENDULUM IS STARTING TO SWING BACK THE OTHER WAY REGARDING 'BOYS HAVE AT IT'? "To be honest, I don't think much about it. I don't spend a lot of time in that space, mentally, wondering if I really act like an idiot right now, am I going to get in trouble. My mindset is how do I win this race. I'm not saying if someone really ticks me off that I won't make a bad decision and then have to deal with it, but at that point you've exploded and you're going to deal with the consequences whatever they may be. For me, what it is is what it is. Mike (Helton) has an obligation to run the sport and to keep it safe and to make sure it's competitive and we're not some crazy sport where it's a 'Destruction Derby'. So I put my trust in NASCAR and Mike Helton to make the right decisions and to officiate our sport as need be. I saw somewhere when Kyle (Busch) mentioned that he just needs to worry about winning races and the rest of it will go away. And the truth lies within that. If you're doing what you need to do to win races, the other stuff doesn't happen."
ARE WE GETTING TOO COMPLACENT ABOUT THIS? WE'VE HAD GUYS GO IN THE WALL NOSE-FIRST AND WE KNOW THE CARS ARE SAFE BUT YOU COULD GET INJURED. DO YOU THINK SOMEBODY NEEDS TO TONE IT DOWN? "Yeah, it's so funny; we're all around the sport enough to know that and, in your position covering the sport, that it's real easy one week to say oh well, it's too vanilla out there; it's too boring and these guys don't rough each other up and back in the day this or that would happen. And then damn if we don't go to the next race and all that happens and now you've got to write the opposite of that. So I think we're all confused. What do we really want? Does anybody know? It changes every week. And if you read the articles and follow the path, we're all confused in my opinion. At the end of the day, our sport is stronger than it's ever been. We have more lead changes, more race winners, and I guess any press is good press."
-source: team chevy