Jimmie Johnson, NO. 48 Lowe's Chevrolet met with media and discussed his new JimmieJohnson.com website, taking over the series point lead, racing at Michigan, and more.
Jimmie Johnson, Hendrick Motorsports Chevrolet
It's been a big week for you after taking over the point lead at Watkins Glen; and you launched a new website. Talk about that and about being in Michigan this weekend. "It was definitely a great week for us. Things have closed up a lot in the points over the last three weeks. To be able to leave The Glen with the point lead is something that I really wanted to do. I think it's great for myself and for the team. To be in this position and the feel of pressure that comes with leading the points; in years past I think we've learned a lot from it and have entered the Chase better prepared from leading the points late in the season. So, I'm excited about where we're at. I'm excited about all the upcoming tracks on the schedule. To be honest with you, I think we're going to be very strong.
"You mentioned the launch of my website. We worked really hard to focus on the fan experience. It really combined the social involvement I have and creates a reason for fans to come back to my website daily. Each week there's a cool component on race day and kind of a hub for fans to interact and spend time. There are other things that exist within the site that are solely fan-focused as well. So, it's a great place for race fans in general and especially for the No. 48 fans. I'm looking forward to the feedback and everybody's involvement on the site."
Why is there pressure involved in leading the points now, given that the points are re-set for the final chase races? "It's not the same pressure as the Chase. But a points leader is a points leader. And when you look at all the events we've had and what's going on, there is a lot of prestige involved with it. It means you're running well. Leading the points is leading the points, in my opinion. So, we're again glad to be there. Hopefully we can stay on top and ideally pull away and continue to gain more points than anyone else; and be in that rhythm and mindset entering the Chase."
As is stands now, you would probably go into the chase as the favorite. People are wondering if your teammate, dale Earnhardt jr., is a legitimate contender. Do you see him as someone who could beat you for the title in the chase this year?
"I do. I think that in the Chase, you clearly need to win races. Tony (Stewart), what he did last year, what he did to win half the races to win the championship; so I think at the end of the day, yes you need to be consistent. Yes you need to be earning points, but you need to be winning races. I have three (wins) and I'm tied with a couple of other guys that have three. Junior has one. So it's not that we're light years different in the win category. So, yeah. Absolutely.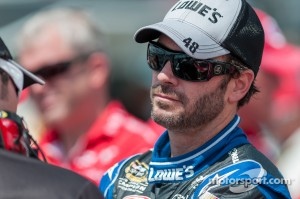 Jimmie Johnson
"I think what I have seen with Steve (Letarte, crew chief) and Junior and how consistent they've been and the laps they've lead, they're real close to being on a hot streak of victories. So yes, absolutely he's a threat. And when I look at the Chase and last year's Chase, I want to take everyone seriously. Tony was at this point of the year, really frustrated. I think at Richmond or somewhere near Richmond, said he would have been wasting his spot in the Chase; and then there we were crowing him as champ. So I don't want to count anybody out."
Michigan is a track where you haven't won. When you come here, does it stand out to you that you haven't won or do you think it's only a fuel-mileage decision here or there away from winning? "This one, I look back on and think of two or three that got away from us; and know that I have the ability to win here and know that I'm competitive here. Before I won at Bristol, I'd look at Bristol and (think) like man, I'm never going to win there; or Sonoma. I just wasn't in the running or ever close to winning a race. So, it's a different mindset when I come here. I'm highly motivated. I do know that it's one of the five tracks I haven't won at but I feel like this is a track that I have a great opportunity to win at; unlike some of the other ones that I haven't been able to clear that hurdle on."
On your new website, you want to give information to fans. Do you think there is maybe a risk in giving too much information that can be misused? You never know who will read your page... "Well, I think when I decided to get involved in social media, that really opened that door. And I've had a great experience in all the social outlets and the site really encompasses that and is an extension of that. So, I don't think it's anything more than what I'm doing already. That was my fear all along in joining Twitter to start with and I've had a Facebook page but it was operated by my office and it still is now. l post on there from time to time. But my direct engagement was delayed and I was very slow to get on board due to that. But, I've really enjoyed the experience."
It's very unusual for you to be in first place in the points right now. Is there anything wrong with the regular season championship that a million-dollar bonus wouldn't fix? "I've always felt like we should have something (laughs). It is a huge accomplishment to win the regular season points championship. I don't even think you get a sticker for it or anything. I feel like it would be nice. I'm sure the monetary side would be amazing. But we would all be happy with a little $5 trophy that you won the regular season championship. So, a t-shirt would be nice; anything. So, I'm up for that. You could even work up an argument that there's some type of bonus points that could be awarded to the regular season champion that carries over or something in the seeding process or pit road pick or I don't know. You dream up something there that would be nice for the champion."
Source: Team Chevy