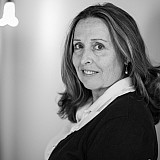 Team Penske racer earns his third Sprint Cup pole of 2015.
RICHMOND, VA. – Joey Logano jumped to the top of the pylon with just a few moments remaining in qualifying at Richmond International Raceway.
The only two drivers capable of knocking the No. 22 Team Penske Ford off of the provisional pole was Jeff Gordon and his teammate Brad Keselowski – but neither opponent was up for the challenge.
"Hell yeah, boys," said Logano, after earning his third pole position of the season with a lap of 127.071 mph. "Good job."
Denny Hamlin, Kurt Busch, AJ Allmendinger, Kevin Harvick and Martin Truex Jr. will comprise the first three rows for Saturday's Toyota Owners 400.
Hamlin acknowledged he "lost a little too much grip" in his final run at the pole.
Three is a charm
Logano was consistent over the first two rounds of qualifying – he posted the 10th fastest time in each session. His first run in the final session only produced the 11th fastest time.
We only had one spot to lose, so we swung at it.

Joey Logano
"We only had one spot to lose, so we swung at it," Logano said. "She turned and off she went. It was not normal for us. Normally, we're really fast in the first round and it's hard for us to stay fast throughout but the guys did a good job of keeping this thing fast and making it faster
"The laps didn't actually feel good because you have seven or eight laps on your tires and your car is sliding around a lot. It's funny that the pole-sitting car is sliding around all over the place cause you're on old tires out there."
For Logano, it was his 11th career Sprint Cup pole. Also transferring to the final round were Keselowski, Matt Kenseth, Jamie McMurray, David Ragan, Jeff Gordon and Kyle Larson.
Round 1
Hamlin led the cars off of pit road for time trials. Harvick quickly overtook the No. 11 Fed Ex Toyota in the session with a lap of 129.559 mph. Keselowski, Busch, Ragan, Truex, Gordon, Larson, Brett Moffitt, Carl Edwards, Logano, Ryan Newman and Paul Menard posted the top dozen speeds.
Other notables transferring to the second round included Tony Stewart, Danica Patrick, Landon Cassill and Chase Elliott, who is making his second Sprint Cup start and will roll off 16th.
Three Hendrick Motorsport drivers failed to move on to the second round. Dale Earnhardt Jr., Jimmie Johnson and Kasey Kahne will start 26th, 36th and 40th, respectively.
"That was pretty bad," Earnhardt said. "Should have let the wedge out. It just plowed the center of the corner, almost wrecked getting into turn one with the track bar up."
Round 2
Denny Hamlin led the session with a lap of 128.083 mph after knocking Harvick from the top of the pylon. Kenseth, Keselowski, Truex and McMurray followed. Gordon, Allmendinger, Busch, Logano, Ragan and Larson were the final six qualifiers to transfer.
Stewart made one last attempt in the closing moments of Round 2, but just missed the mark.
"Damn it," said Stewart, who will roll off 13th. "Good job today guys. Sorry about that."
Patrick qualified 21st.
Jeb Burton and Brendan Gaughan failed to make the show.