Get alerts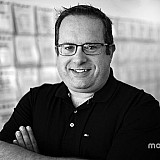 Coy Gibbs set to take larger role in NASCAR operations at Joe Gibbs Racing
As part of a restructuring of its executive team, Coy Gibbs, the younger son of Joe Gibbs Racing owner Joe Gibbs, has been named vice chairman and chief operator officer of the company, taking a larger role in the organization's NASCAR operations.
Coy replaces Todd Meredith, who has resigned his position but will continue to consult for the organization over the next several months as he explores new business opportunities.
"We feel the timing is right to bring Coy into the NASCAR operations in a more official capacity. He has done an outstanding job with our motocross operations and will continue to provide his leadership there as well," Joe Gibbs said in a statement.
Coy Gibbs' background
Coy Gibbs launched JGRMX in 2008 – JGR's motorcross team – and has been at the center of every aspect of the operations from personnel decisions to sponsor acquisitions and competition direction. He will primarily be focused on the operations side for JGR's NASCAR team while continuing his daily role with JGRMX.
"I take great pride in what we have accomplished with our motocross operations and I will continue to provide direction there, while working more closely with my father and brother on the NASCAR side of the business," Coy Gibbs said. "I know we have a tremendous team in place already and I'm looking forward to being more involved now in this official capacity."
Meredith resigns
Meredith joined JGR in 1992 and has spent the past 25 years working in the competition and operations departments of the organization. He was named chief operating officer in 2013.
"Over the past several years, I truly feel like the Lord has been calling on me to make a change and I'm excited to see what he has in store for me and my family," said Meredith. "I take a tremendous amount of pride in having had the opportunity to play a role in the growth of JGR over the past 25 years and I'm confident that this is the perfect time to step away and allow others to show their leadership."
Other changes
As part of the changes, J.D. Gibbs, Coy's older brother, joins his father as a co-chairman of JGR. Dave Alpern, who most recently served as chief marketing officer, will take over as the organization's president.
In addition, JGR announced Tim Carmichael will assume expanded responsibilities in his role as chief financial officer, while Wally Brown will serve as competition director and Todd Bowland has been named technical director.
J.D. Gibbs, who most recently served as team president, has seen his role reduced in the last year. In March, JGR announced J.D. had started treatment for symptoms related to brain function.
At the time no specific diagnosis was given to Gibbs' problem but a team release said he had experienced "a gradual onset of symptoms that includes speech and processing issues."
In the months since, Gibbs has made several appearances at the track, many times seen enjoying the fruits of a JGR driver's win in Victory Lane.