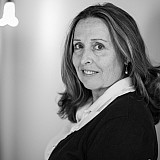 Johnson wrecks 85 laps into the Hollywood Casino 400
KANSAS CITY, Kan. – Jimmie Johnson took a hit in the Chase for the Sprint Cup on Sunday.
On Lap 85, Greg Biffle slid up into the No. 48 Lowe's Chevy exiting Turn 2 and sent Johnson spinning into the inside wall on the backstretch. Justin Allgaier was also involved in the incident.
"God damn," said spotter Earl Barban. "The 16 took us out."
"We're killed," replied Johnson.
"Let's get 'er to in the garage and get it worked on," crew chief Chad Knaus said.
Johnson was running 26th at the time. He acknowledged that his problems started with qualifying on Friday when he spun out in the first round and was forced to start 32nd in the Hollywood Casino 400.
"I'm fine," Johnson said. "Obviously, a big hit in the championship points.
"We've got to be on our game at Charlotte and Talladega. There is still a lot of racing left. Stuff can happen. We'll see how the other Chasers fare. If I can get taken out today, somebody else can later in this event or at Charlotte. We'll do our best to get on track and then certainly need W's, I would assume, going forward."
Johnson was scored 39th after the wreck. He returned to action on Lap 154 in 40th position.