Time Is on His Side
HUNTERSVILLE, N.C. (April 2, 2011) – The Rolling Stones couldn't have had Jimmie Johnson in mind when they wrote their 1964 hit, "Time Is On My Side," as Johnson wouldn't be born for another 11 years. However, the five-time NASCAR Sprint Cup Series champion could be the poster boy for the song these days. He is quickly amassing one of the largest collections of time pieces known to man, thanks to his success in the NASCAR Sprint Cup Series at Martinsville (Va.) Speedway, where the victory lane trophy is a grandfather clock.
Jimmie Johnson, Hendrick Motorsports Chevrolet
The series visits the paper-clip-shaped track for Sunday's STP Gas Booster 500 where Johnson has seven wins, tying Dover (Del.) International Speedway for his career-best total at a single track on the circuit. He is third on the all-time win list at Martinsville, tied with Rusty Wallace and Jeff Gordon. Only Richard Petty, with 15, and Darrell Waltrip, with 11, have more. A win Sunday, however, would make him the winningest active driver at the half-mile oval.
Not surprisingly, Johnson holds the series' best driver rating for the track and has finished outside the top-10 only three times in 22 races. Surprisingly, two of those uncharacteristic finishes outside the top-10 occurred during the past two spring races, when Johnson finished 12th and 11th, respectively. He rebounded during his fall returns to Martinsville, winning in 2012 and finishing second in 2011. Not too shabby for someone who has said he struggled at the circuit's smallest track early in his career.
Uncharacteristic finishes aside, Johnson knows how to get around the half-mile oval. The question is, will time be on his side Sunday? Johnson and Team Lowe's Racing hope the answer is, "Yes it is. Yes it is."
JIMMIE JOHNSON, Driver of the No. 48 Lowe's Chevrolet SS for Hendrick Motorsports:

What is your outlook going into Martinsville?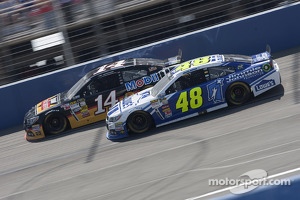 Jimmie Johnson, Hendrick Motorsports Chevrolet
"Martinsville is just a quirky track. Once I figured out how to drive it – and, frankly, once Tony Stewart lapped me there in my sophomore year – it just made sense how to drive the track and I've had it ever since. From my first year at Martinsville, I never thought I'd have a stat to take down, let alone a stat that I'd ever have a chance to take down. (Note: a victory this week at Martinsville will give Johnson eight wins, which would be more than any other active Sprint Cup driver.) With the new racecars, I think contact is going to be a question mark for me. We have fiberglass panels and stuff, now, where it used to all be steel. I've seen some crash damage after just a small impact where they had to cut the nose completely off the car. So that could be the issue come race time there. Some minor contact could cause major cosmetic damage. Brakes will be the same old story. It will be the same old thing. This car has adequate cooling and has adequate flow, so I don't see where there will be any issues with brakes."
Since Martinsville is not a downforce track, is that a place you can take last year's notes with this new car and make it work?

"Yeah, definitely. Martinsville, gosh, it has been the same stuff and it's been here for a long time. It's nice to go back to those tracks. It doesn't matter what shape or design is on the exterior. The mechanical grip aspect is still the same."
How important is it to get off to the quick start you are having?

"I think it's important. I have been so fortunate to not need to worry about Richmond and making the Chase and, hopefully, it stays that way. Leaving Daytona in a hole is something we have grown accustomed to. It takes seven, eight weeks to get back up in the top-five in points. A quick start is important. It frees up the first half of the year for you. You can preserve the test sessions that we are allowed to have at real racetracks on the tire we're going to race on. You can focus on inventory of your racecars, which we are all behind with the Gen-6 car. Just get your car allotment built up, which is very important to do at this stage. Instead of cutting up existing cars and rebuilding stuff, and on and on, it's important to get off to a quick start. It helps lighten the work load for everybody."
Team Lowe's Racing