Jimmie Johnson declares "I'm not done" as he returns to Fontana
Jimmie Johnson spoke to the media for the first time following the announcement by his long-time sponsor Lowe's that they will not return to the No. 48 Hendrick Motorsports team in 2019.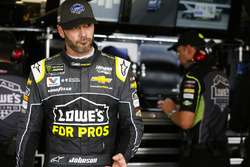 He also talked about returning to a track where he has more Monster Energy NASCAR Cup Series wins than any other driver. He hopes to earn his first top-10 finish in the last 10 races or end a career-long 27-race winless streak.
"I feel good about it," the seven-time Cup champion said. "This is such a fun track. We've all seen this place evolve in the multiple lanes of racing. The character of the track has the bumps, the tire wear, and puts on a great show.
"So, I'm excited to be back at my home track, as well, the place of my very first win and not a better place to get my 84th (career win)."
Losing Lowe's
Although he said he understood Lowe's decision, Johnson is determined to look at the positives of their nearly two decades partnership.
"First of all, what a run to have an 18-year relationship with such an amazing company," he added. "The friendships, the relationships, the way we've been able to deliver to their marketing efforts, the history we've made in our own sport, the chance I had to even drive a Cup car because of them.
"There are so many levels to it that I am very, very thankful for and proud of. Of course I wish we could finish it out together, but that's not the circumstance."
More wins left in him
With his long-time sponsor leaving and crew chief, Chad Knaus, currently not under contract for next season, Johnson was asked if he's thought about retiring at the end of this season. His response was quick and direct.
"I'm not done, man," said Johnson when asked in the media center Friday afternoon. "I guess maybe it's the eternal optimist that I am. I have more to do and I enjoy the process and Hendrick is home and retirement hasn't been on my mind.
"I want to win. I want to win an eighth championship. If you look at Chad's contract, it has nothing to do with Lowe's and where they are. It's been on its own path and its own journey. Just because a sponsor is changing doesn't change his environment."
Thinking of the team
Johnson also feels a sense of responsibility now being the veteran at Hendrick Motorsports with three young teammates.
"I'm the elder statesman in a company with three young guys," he added. "If I was to have this be the end, (it would) put Hendrick Motorsports in a very awkward position and I don't know.
"There are just a lot of different ways I could look at it and say that it's the absolute wrong time. But I guess at the end of the day it's really my desire to compete and to compete at a high level. I'm not done yet."
Jimmie Johnson declares "I'm not done" as he returns to Fontana