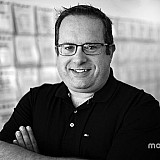 In NASCAR's first on-track test of 2016, six-time Sprint Cup Series champion Jimmie Johnson found somewhat of a surprise – increased speeds.
Johnson was one of four Cup teams participating in a Goodyear tire test this week at Las Vegas Motor Speedway.
When Johnson and his No. 48 Hendrick Motorsports team got some time on the track they found speeds higher than they anticipated, specifically in comparison to what was seen at a tire test last fall at Kansas Speedway.
"It was good to knock the rust off and get ready for the season," Johnson said Wednesday in a media appearance at the track. "In developing a tire for the rules package, things are acting a little different than we anticipated.
"I was at the Kansas test with this package and tire and we were able to create a lot of falloff. With these cool conditions (this week) and the surface here being so good still, it's been tough to create the falloff we're all looking for."
The result?
"We're just fast. We're really fast," he said. "We've taken downforce off the cars; we've lowered the gear ratio – a lot of things to slow the car down and we're every bit as fast, or faster than we were last year."
Johnson said teams and Goodyear officials thought with higher temperatures in March, a greater tire falloff would be seen during the Las Vegas race weekend.
The new aerodynamic rules this season feature a 3.5-inch spoiler, a 0.25-inch front leading splitter edge and a 33-inch wide radiator pan. These components combine to provide lower downforce on the cars – similar to the aero packages used in races last season at Darlington, S.C., and Kentucky.
The lower downforce rules package is intended to produce more off-throttle time for drivers and decreasing corner speeds which in theory should generate more passing zones over the entire track.
Adjusting to a Hendrick Motorsports without Jeff Gordon
Johnson said new teammate Chase Elliott and his crew chief, Alan Gustafson, viewed the test this week as they prepare for their first season together. Elliott replaces veteran Jeff Gordon in HMS' No. 24 Chevrolet as Gordon moves to the Fox Sports TV booth this season.
"It so weird seeing (Gustafson) talking to Chase and it's not Jeff standing there," Johnson said. "I know I'm going to have some double- and triple-takes when I look into the No. 24 and it's not the face I'm used to seeing.
"It's going to be a slow process I think for us all to wrap our heads around it."
Kurt Busch from Stewart-Haas Racing, Brad Keselowski from Team Penske and Matt Kenseth from Joe Gibbs Racing also took part in the tire test.