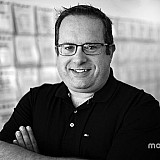 The new year is just underway but NASCAR veteran Jeff Gordon is already re-focusing on his newest role in motorsports, as a TV analyst.
Gordon will join Darrell Waltrip and Mike Joy in the Fox Sports TV booth this season broadcasting the first half of the NASCAR season.
I'm looking at this as I'm going to bring as many factual things to the broadcasts and the viewers of my own experiences

Jeff Gordon on new gig
Gordon, whose success over the last 20-plus years made him one of NASCAR's most mainstream personalities known worldwide, says he hopes his new TV role will provide an "adrenaline rush" in much the same way as his driving career.
"I'm competitive, I've been in a sport where there's an adrenaline rush and there's nothing I know more about than racing. I've been doing it basically my whole life," Gordon said. "So, when I thought about live TV and the things I've done over the years not necessarily racing related, there's an adrenaline rush that comes from doing live TV.
"I'm competitive with myself, so I get to still be part of not only a competitive sport but push myself to be better and have those challenges and goals as I'm in the booth and being a part of the broadcast."
Gordon got a taste of the broadcast experience last season, serving as a guest analyst on some Xfinity Series races.
The first thing he learned?
"You don't have a lot of time to get your thoughts out there. The Cup races will be longer, but between what's happening on-track or the next break coming up, there's a small window of opportunity that you want to discuss a topic," he said.
"But you have to transition back away from it, whether to allow Mike or DW to give their thoughts, to go to pit road, to Larry Mac (Larry McReynolds), whatever. Having someone in your ear while you're trying to finish a thought and make it seamless. That, and rain delays – I'm hoping for great weather."
Gordon acknowledges the entertainment aspect involved in broadcast TV, but hopes to remain true to who he is, his own personal experiences and the things he believes are important.
"I always look forward to pushing myself and being a part of a group that likes to push limits. I've done so many things over the years that I certainly don't mind having fun and making fun of myself. I'm not a comedian," he said.
"If someone creates the right environment around me, I can have fun and be fun, but I'm looking at this as I'm going to bring as many factual things to the broadcasts and the viewers of my own experiences. When the right thing is presented to me, those are opportunities that present themselves and you go, 'Hey, that seems like a lot of fun,' and I'm going to step outside my comfort zone to have some fun with that."
While the first half of the season with Fox will remain Gordon's priority, he said he will continue to maintain responsibilities with Hendrick Motorsports (he continues as part owner of Jimmie Johnson's No. 48 team).
He will also spend some time this season on fan-related events.
"That was one of the commitments I made to tracks last year where I tried to stay as focused on the competition and driving in 2015 but said to the tracks, 'I'm coming back, so let's do something with the fans in a way that I'm involved with the track in some kind of promotion or event,' " he said.
"We have those planned for several races."