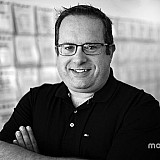 While Jeff Gordon isn't quite done with his current job, he's already getting on a jump on his new one.
The four-time Sprint Cup Series champion is finishing up his last season as a fulltime NASCAR driver and still in contention for a fifth series championship but he's also taking time to prepare for his new role next season as a commentator on NASCAR on Fox TV broadcasts.
Gordon took part in a dress rehearsal last Friday night at Texas Motor Speedway, working with Hall of Fame driver Darrell Waltrip and veteran broadcaster Mike Joy as the group did a "test run" during the Camping World Truck Series broadcast.
The Friday rehearsal was not for broadcast and not seen by the public.
"Any time you can get seven championships together in the booth, its special," said Fox Sports President & COO Eric Shanks. "And getting eight championships in the 2016 booth is still a very real and electrifying possibility.
"Friday night, we got a glimpse of the future and it looks great."
Gordon, who announced in January he is retiring after the 2015 season, will be one of four drivers competing for the 2015 series championship in the Nov. 22 season finale at Homestead, Fla.
He joins the Fox NASCAR team beginning in Daytona in 2016.