Subscribe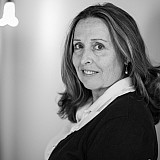 NASCAR's power couple Danica Patrick and Ricky Stenhouse Jr. survive on lead lap at Chicagoland despite late race skirmish.
JOLIET, Ill. – Ricky Stenhouse Jr. appeared poised for a top 15 finish on Sunday at Chicagoland Speedway – until he collided with Danica Patrick and sent the No. 10 Chevy spinning with 10 laps remaining in the Sprint Cup race.
"The 17 (Stenhouse) hit me," Danica says to her crew following a late-race wreck.
"Clearly, I'm trying not to take Ricky out, obviously," Patrick said following the race. "I held my car through the center, so, I figured I was probably clear."
Patrick salvaged a 19th-place finish – the last car on the lead lap. Her spotter Brandon Benesch took responsibility for the miscue. Although he warned Patrick of the No. 14 below her, but not Stenhouse on top.
"I didn't know the 17 was there on the high side of the track," Patrick added. "My spotter took the blame on that one. I just didn't know Ricky was up there and I obviously don't want to hit his car or anyone else with 10 laps to go."
I talked with Ricky afterward and we're fine

Danica Patrick
Stenhouse was running 16th when he made contact with Patrick coming onto the frontstretch. He finished 17th.
"Thanks for keeping us on the lead lap guys," Stenhouse told his crew. "Obviously you're not going to be able to tell what's wrong with it now."
As far as the couple taking the issues from the track home with them, Patrick acknowledged that they cleared the air right after the race.
"I talked with Ricky afterward and we're fine," Patrick said. "It's just a tough deal. We finished 19th even with the damage so it was a decent run. We just had a tight car all day."