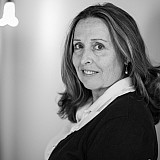 While the HMS stable struggles, Kahne perseveres with eighth-place starting position for the Food City 500.
BRISTOL, Tenn. – It was not a very Hendrick-like performance in qualifying at Bristol Motor Speedway on Friday.
Six Chevrolets transferred to the final round of qualifying for the Food City 500 in Support of Steve Byrnes on Friday, but Kasey Kahne was the only driver representing Hendrick Motorsports.
Kahne, who qualified eighth with a lap of 126.829 mph, couldn't find speed in the middle lane. But as he lowered his line towards the bottom of the track, he was able to cut his time. The adjustments enabled Kahne to advance but his car tightened up as the track cooled down. By the final round he was no match for pole-winner Matt Kensethm who posted a lap of 128.632 mph.
"The first run, I thought was really good. I screwed-up a little bit, but the car had really great balance and a really good feel," Kahne said. "The second run, we didn't adjust and it felt a little free. But we moved on easily. And then the third round, we tightened-up because of being a little free the run before. It was tightened up in too many ways. I just couldn't put together a fast enough lap there at the end.
"But, I still felt like the balance in the car is doing everything I want it to, I just had to hold the brake a little too long and slowed my middle down which slowed the exits in the straightaway down, but we were fairly close."
"This ain't normal..."
For Dale Earnhardt Jr., qualifying 13th was his best result here since 2003 when he started eighth. But it was his love for the track enabled the driver of the No. 88 Chevy to remain optimistic through what could have been a miserable afternoon.
Considering how poorly his car handled throughout practice and qualifying, Earnhardt was pleased with the overall outcome.
We just have to improve on the balance a little bit where the car can race well.

Dale Earnhardt Jr.
"We have been fighting several balance issues today, pretty extreme," Earnhardt said. "The car didn't feel like it was running very good laps.  We are not lacking too much speed.  We just have to improve on the balance a little bit where the car can race well.
"We will be very good this weekend.  We love racing here, love this race track.  We just have to improve how the car drives.  We have decent speed there and that is a good result for us in qualifying especially at this track."
"It just wasn't there..."
Jeff Gordon will roll off 23rd on Sunday. Only three times in his 44 starts on the half-mile track has he qualified farther back in the field. In 23 seasons of competition, Bristol ranks third (7.3) among tracks where Gordon has his best average qualifying, but he knew on his first lap in the second session that he was "in trouble".
"We're known for qualifying really well here," Gordon said. "This year, we're really struggling with this package being consistent. The first lap was not bad. The second lap, I just couldn't keep the back end underneath me getting in the corner.
"Twenty-third is not good. That is not at all where we want to start, but it's a long race. We've got a great team and between pit road and pit strategy and adjustments and me searching around the race track, I feel like we'll be able to get up front.
"But, first you've got to get the car dialed in the way that we need it to run different multiple grooves on this race track. And pretty soon that top groove is going to come in at some point and we'll have to be ready for it."
"This has just been a tough track for me..."
Bringing up the rear was Jimmie Johnson, who qualified 28th. Johnson's career numbers at Thunder Valley comes nowhere close to equaling Gordon's. During Johnson's time in the Cup Series, only at Homestead and Rockingham has he posted lower qualifying stats. Still, rolling off from the 14th row on Sunday was not what the No. 48 team expected entering the weekend.
"It's just been a struggle," Johnson said. "I mean in practice we were on one side of it, and then in qualifying we were on a different side. It's a frustrating Friday. Bristol can be that way for us. We always race a lot better so we'll settle-in during the race and I think, come out with a good finish.
"I love this race track. I just wish that I could show up and walk in the gates and to it like I do at a lot of my other tracks that I'm strong at. There's still a lot to learn here at Bristol even after coming here for 16 years."
Johnson has been remarkably consistent at Bristol. Despite one engine failure in 2005, the No. 48 Lowe's Chevy has been running at the finish in 25 races and has completed 97.6 percent of all laps raced. Johnson can't afford to lose a lap if he hopes to survive on Sunday.
"If you can stay on the lead lap and deal with the attrition, you'll be in decent shape," Johnson added. "We won't have any favors on pit road. In some ways it's nice that we qualified so bad that we might find an opportunity on pit road to make up somewhere and work some slower traffic that way, but we're in a big hole. There's no way around it.
"But it is a long race. You can still salvage a nice finish here out of being smart and running a strong race and that's what we're going to have to do."