Get alerts
Today is the 14 year anniversary of the day we lost Adam Petty.
May 12th, 2000 - New Hampshire Motor Speedway. The NASCAR Nationwide (then Busch) Series took to the track for practice at the 'Magic Mile.' Names such as Johnson, Harvick, Hornaday, Leffler, Green, Hendrick, Dillon, Parsons, Bodine, Jarrett, and Labonte were all taking part.
There was another driver who participated in that session as well. He was the fourth generation member of NASCAR's royal family - the Petty family. When he pulled out onto the track that day, this day, May 12th, 14 years ago, he paid the ultimate price in pursuit of the checkered flag. His name was Adam Petty and he was 19 years-old.
The cause? A stuck throttle. The result? A sport devastated, a family line shattered, a fan base stunned, and a young man lost to the unshakable and unwelcomed partner of all auto racing ... death. His loss was one that rocked the NASCAR community and changed the sport in more ways than we can possibly imagine.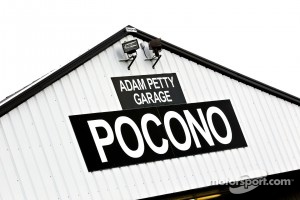 Adam Petty garage
Had he lived, the Petty family would still have a driver on the track, carrying Petty Enterprises into the 21st century. That team ceased operations at the end of the 2008 season. They technically merged with Gillett Evernham Motorsports, but the only thing left of one of NASCAR's longest running organizations was 'King' Richard Petty himself.
Adam was a talented young racer but he was so much more than just a race car driver with a famous last name. He was a good, caring, respectful person. He liked to help others. In his honor, the Petty family created the Victory Junction Gang Camp, which is a haven for seriously ill children. Its purpose was and is to give those children a chance to have happiness, enjoy life, and just be a kid.
Now, this short piece remembering Adam Petty isn't anything special. It's nothing you've never heard before; just a simple reminder to take a moment today to remember him and the legacy he left behind. Adam's time here was short and he was robbed of a chance to be the star that he was destined to be. As the old adage goes though, "it's not about what you did when you're alive, but how you're remembered when you're gone."
In reality, you're never truly gone when there's people who will never let your memory die.
His fleeting presence in NASCAR ended over a decade ago, yet, his impact on the world is still felt today. Every child at the VJG Camp smiling, laughing, and enjoying life is because of him and the life he once had.
A few months ago, his brother Austin had a son - a fifth generation member of the iconic Petty family.
His name is Adam ... Adam Petty.