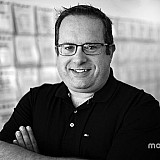 Sunday will be the first time since the advent of the new NASCAR Chase format in 2014 that Kevin Harvick won't be one of final four drivers competing for the series championship.
And he seems to be OK with that.
Harvick won the season finale at Homestead-Miami Speedway and the championship in 2014 and finished second in the series standings last season after coming in as runner-up in the race to eventual champion Kyle Busch.
This season, Harvick was eliminated from title contention after failing to win his way into the Championship 4 last weekend at Phoenix.
"Nothing to hang our heads about"
Still, he and his No. 4 Stewart-Haas Racing team show no signs of slowing down. He won the pole for Sunday's race and was 11th-fastest in Saturday's final practice session.
"You watch last week and how much changed in the last little bit of that race, we have nothing to hang our heads about," Harvick said. "This is competition, and that's what we show up for, and sometimes the defeats are not as fun to experience, but just as much needed in order to push your team and your people and understand how hard it is. 
"I think sometimes losing definitely makes you better, and that's what I love about competition. Sometimes you win and sometimes you lose, and the group of guys that you race against, those are the guys that keep it interesting and keep it fun showing back up to the race track because you can't beat them every week.
"It's just impossible."
It's been another solid season for Harvick since his move to SHR.
Entering the season finale, he had four wins, two poles, 16 top-five and 26 top-10 finishes in 35 races and has led the third-most laps this season behind Martin Truex Jr. and Kyle Busch.
Change is on the horizon for SHR
In almost three seasons now at SHR, Harvick has led 5,736 laps – far more than his entire career at Richard Childress Racing that spanned 13 seasons (4,426 laps).
While Harvick's team will remain virtually intact next season, there will be changes at SHR as the organization switches from the Chevrolet camp and an alliance with Hendrick Motorsports to the Ford camp.
Regardless of the lack of a championship on the line, Harvick said he and his team will approach Sunday like they always do.
"You know, you prepare and do all the same things. We've done everything the same," he said. "Obviously, there's not as much pressure coming into the weekend as there normally would be, and a lot less to do – so that's a good thing.
"So yeah, it would be nice to win a race and close the season out. Just a lot of reasons – Tony (Stewart's) last race, last race with Chevrolet. We came here to try to win, same as everybody else. No participation trophies."