Get alerts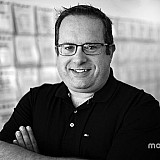 Denny Hamlin found himself alone at the end of Sunday's race at Phoenix International Raceway, but unlike at Talladega, he didn't plan it to happen that way.
When a caution for debris was displayed on Lap 267 of what was expected to be 312-lap race, Hamlin's No. 11 Joe Gibbs Racing team elected to remain on the track and planned to nurse their fuel to the finish.
As it turned out, fuel was the least of their issues.
Hamlin ended up being the only lead-lap car to stay out, so everyone who lined up behind him – including his fellow Chase contenders – were armed with fresh tires for the remainder of the race.
On the restart, Hamlin quickly lost the lead to his teammate, Matt Kenseth. Then, when the race went into overtime, he was forced to pit for tires and fuel and finished seventh, which ended his quest for his first Sprint Cup Series championship.
"Not a bad car, not a great car but we made our bed there trying to stay out," Hamlin said. "That's kind of what we needed to do to get track position but I thought a few more cars would stay out there with us.
"Once we got going, our lap times were pretty good. We just weren't good at the right time."
Why their strategy didn't work
Hamlin said he was surprised more drivers, perhaps those not in title contention, would try to stretch their fuel to the finish in an effort to snag a victory.
"We needed about a two-car buffer (over the rest of the field) and I think we would have been fine," Hamlin told Motorsport.com. "When you look at our times, we started running those guys back down after 10 to 12 laps. We did the best we could, honestly, we just didn't have enough."
Hamlin entered the Round of 8 of the Chase with high hopes it would launch him into the Championship 4 next week at Homestead-Miami Speedway, particularly since it featured tracks – Martinsville, Texas and Phoenix – on which he typically performs very well.
His finishes in the round were not bad – third, ninth and seventh – but without a win to lock in a berth, Hamlin came up six points short of advancing on points.
"Definitely I'm disappointed. You want to race at Homestead and have it mean something," Hamlin said. "Still we got two Gibbs cars in this thing. You never know what can happen – we got a 50/50 shot.
"Well go out there next week and try to win the race and help our teammates and see what happens."