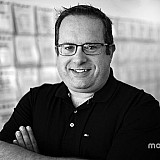 Despite speculation that Chip Ganassi Racing would add a third car for next season, the team confirmed Friday that they will remain a two-car operation.
Officials with Chip Ganassi Racing with Felix Sabates confirmed Friday that the organization will field just two fulltime teams in the Sprint Cup Series next season.
Ganassi currently fields cars for Jamie McMurray and Kyle Larson and that won't change next year despite the addition of Rob Kauffman as an investor to the organization.
Bowyer looking elsewhere
There remained much speculation even this week that Bowyer, currently a driver at Michael Waltrip Racing which Kauffman currently co-owns, would move to the Ganassi organization with Kauffman.
Earlier Friday at Bristol (Tenn.) Motor Speedway, Bowyer said his future was up in the air for next season yet all-but ruled out a move to Ganassi. Motorsport.com understands that he could move over to HScott Motorsports next year (Read more HERE).
"It's unfortunate for my career and my fit that Rob and I's futures don't align anymore," he said.