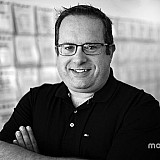 Carl Edwards may be in a precarious points position after Sunday's Sprint Cup race at Martinsville (Va.) Speedway but it hasn't affected his optimism.
A blown tire on Lap 357 of 500 caused enough damage on Edwards' No. 19 Joe Gibbs Racing Toyota to require a trip to the garage and he ended his day with a 36th-place finish.
With two races remaining to qualify to make the Championship 4 at the season finale at Homestead-Miami Speedway, Edwards sits last of the remaining Chase drivers in points, 39 behind leader Jimmie Johnson.
"Talladega was no fun for us. We want to try to win each one of these races in this round and really that's probably the best performance we've had at Martinsville for a long time," Edwards said.
"Things like that happen in racing, though, and we have a heck of a crew. These guys are true warriors. We're just going to go out and battle for every spot. I have a feeling we'll be alright."
Tire issue not the team's fault
Edwards said he was comforted somewhat after the racing having been told Goodyear Tire officials told his team they had done nothing wrong on their part to cause the tire failure.
"I have a lot of respect for them," Edwards said of Goodyear. "They came down (to our pit) and looked at the tire and said it was a belt failure, so that's really big of them to say, 'Hey, there's nothing you could have done about it.'
"We had a really good race going and sometimes that's just what happens in racing. I think we had a top-three car."
Edwards has been beset several times this season with issues that have derailed his performance – whether on pit road on or the track – and generally when he's had a strong run in the race up until that point.
Asked if he was frustrated with that pattern, Edwards said: "That's just the kind of thing that happens. It's a high performance sport and everybody is pushing everything.
"We could have won both Texas and Phoenix earlier this year so I feel very confident going to those two tracks, so we'll be alright."
Edwards lost the spring Phoenix race in a photo-finish to Kevin Harvick. He won the pole at the spring Texas race and finished seventh after leading 124 laps, second highest in the race.