Get alerts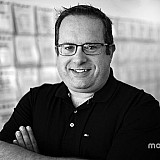 Austin Dillon continued his strong start to the 2016 season but this top-10 finish came with the driver holding his breath until the finish.
Dillon's Richard Childress Racing teammates, Ryan Newman and Paul Menard, both wrecked out of the race early in Sunday's Good Sam 500 at Phoenix International Raceway after melted beads from excessive brake heat led to right front tire failures.
That left Dillon concerned on the long green-flag run late in the race about whether his No. 3 Chevrolet would suffer the same fate.
"I asked my crew chief (Slugger Labbe) one time after both of them wrecked, it was late in the race and my brakes were kind of fading, I just asked for security if (the tires) looked alright and he said they had looked fine all day," said Dillon, who finished ninth and sits eighth in the series standings after four races.
"I had pretty good confidence but it does sit in the back of your mind all day. Can it happen? Will it happen? I tried to ease up on the brakes."
With five of the scheduled 312 laps remaining, a caution came out when Kasey Kahne experienced a similar tire problem and wrecked.
Late-race gamble
Most of the lead lap cars pit for new tires but Labbe elected to have his driver remain on the track along with race winner Kevin Harvick and Dale Earnhardt Jr., who finished fifth.
"Slugger did a good job of giving me false information at the end," Dillon said jokingly. "He told the three guys behind me had fuel-only. So, I was pretty calm about that. I figured I had a little gap and we'd be OK."
In actuality, all the lead-lap cars lined up behind Dillon had taken at least two new tires, which quickly became apparent on the restart.
"I took off and (Earnhardt) spun his tires. I was a sitting duck for (Kyle Busch) to take me three-wide," Dillon said. "When he did that, I got into (Turn) 3 and lost a couple more (spots).
"Maybe I could have held a few more spots if I didn't get put three-wide but I'm proud of the effort from my team."
Brad Keselowski and Ricky Stenhouse Jr. also experienced similar tire failures due to excessive brake heat. Goodyear officials said the issues were comparable to what teams have experienced at the short track in the past.
Richard Childress Racing leaves Phoenix with a 77-race winless streak, but with the recent performances by the No. 3 team, there's hope that RCR could very well be back in Victory Lane this season.