Team Chevy Racing press release
JUAN MONTOYA, NO. 42 TARGET CHEVROLET met with members of the media at Daytona International Speedway and discussed last year's performance, changes during the off season, Danica Patrick and other topics.
Juan Pablo Montoya, Earnhardt Ganassi Racing Chevrolet
THERE ARE CONSIDERABLE CHANGES THIS YEAR AT EGR. ARE YOU CHARGED UP? IS THIS GOING TO BE THE BEST YEAR EVER? "Well there have been a lot of changes; it has been a very interesting off season for us. I think the road crew changed like 90% of, engineering, back in the shop changed, there are a lot of really good changes. I don't want to go out and say "Oh" but they have done a great job with the car. The car seems to be pretty fast, pace has been ok. I don't know, have to wait and see. I think Daytona will not tell us much, it never does. We have done a good amount of testing, I think we have prepared ourselves the best we could and see what happens. We go to Phoenix and start seeing how good and how much we have evolved over the winter, I know we have made some numbers and things. We have evolved a lot and I think we are going to be way more competitive, but we will wait and see, we need to be."
I KNOW YOU WANT TO SEE RESULTS, WHAT DO YOU WANT TO SEE THAT WOULD GIVE YOU BETTER RESULTS? "Faster race cars. I think our car was so far behind last year that it is hard to perform. It does not matter who you put in a car, when the car doesn't perform, it doesn't perform. It was a frustrating year, but in a way it was good because a lot of the changes were needed and Chip (Gannassi, Car Owner) really got into making sure we had the best we could. It is interesting."
WHAT DID YOU DO TO RECHARGE YOUR BATTERIES OVER THE OFF SEASON? "Test, (laughs) I tell you the truth. I was talking to someone a minute ago and I was here fifth of Janurary, I was testing here already for the 24 hours, I really went home for ten days for a golf tournament and I came back, spent Christmas with the kids and that's it. Test, meetings, things, up and down."
WHAT DID YOU THINK WHEN CHIP GANASSI SAID ON THE MEDIA TOUR THAT HE THOUGHT LAST YEAR WAS PATHETIC? "I would agree with him. I mean if any of you think that as a team we preformed last year, you should not be a reporter, or you should not be involved in this sport because it was bad. It was a really bad year for us, I mean on a good day we could finish eighth or something, I mean that is crazy. A team of the calber of Chip Ganassi Racing, you cannot run like that and Chip realized that and that is why so many changes were made over the off season. It took two months to get everyone in place and get the team and cars where they need to be. I am not 100% sure, but I think you put the right people in the right places, they will come up with good race cars and things will get a lot better. I think the initial performance is going to be better, but I think there is going to be a lot to come from the team so it should be exciting."
HAVE YOU BEEN IN A SITUATION WHERE YOU CAN JUDGE, OR GET A RANGE OF WHERE YOU ARE? "We have been good, I was running third in the Chase for a while in 2009 and I lead a lot of races, we have been up front, lead a lot of laps, you have a good car you look good, you have a bad car you don't look so good. I don't think there is magic there.
DURING MUCH OF YOUR CAREER YOU HAVE NOT STRUGGLED. YOU HAVE BEEN HERE FIVE YEARS AND PROBABLY HAVE NOT HAD THE SUCCESS YOU WERE LOOKING FOR: "No, I think in the first three years I did expect not to be that great at it because it was going to be so different, the three years actually came out really good, the third year we made the Chase, fought for the title and everything was good. The year after it was an average year, we took a win and a lot of poles and things, but it was not a great year for us and last year should have been a really good year for us and we really struggled. You look at Jamie (McMurray) the year before won four races and last year, I mean it was a struggle."
IS THAT TYPICAL FOR YOU, I MEAN YOU ARE SO ACCUSTOMED TO WINNING AND YOU ARE SORT OF IN THIS RUT EVEN COMPETING FOR WINS? "It was hard and why do you think Chip (Ganassi) made all those changes? Because hiring all the good engineers and aero guys is because he knows where the team is. For me it is interesting, every time we get in the 24 hour car, because you go from struggling to dominating, you know what I mean? The pace in those cars is stupid fast and it is good. I have a good time driving them and everything; you know I am not the biggest fan of doing that race and it still. You know what I mean? This year I actually had the most fun I have had of the five years. I finished the worst of every year that I have done it and I had the most fun. Cars down the straight away were not that good, but driving it was fun."
WHEN YOU ARE DOWN IN A ROAD RACING CAR, EVEN OF THAT TYPE, DOES IT EVER CROSS YOUR MIND, WHY DID I EVER COME OVER TO THIS OVAL STUFF IN THE FIRST PLACE? "No, but you think about it, you look at my IndyCar career, I have better success in ovals than road racing. I had more wins in ovals than road racing, and to tell you the truth in Sprint Cup cars I hated road course, road courses in these cars are not fun. The racing is ok, and people like it. There is a lot of passing and things but, they do not drive that well on a road course, they are not designed for that. Ovals are fine, I like the ovals."
LAST YEAR WAS A CONTRACT YEAR FOR YOU. DID YOU HESITATE? WAS THAT THE RIGHT TEAM FOR YOU, DID YOU WORRY THAT IF I SIGN HERE AM I STUCK IN MEDIOCRITY? "I think one of the things that were a factor was there were a lot of factors to make sure changes were made and make sure the team was heading the right direction. Chip (Ganassi) recognized that. Chip knows that we were not where we needed to be and it is hard. It is pretty hard to go and say oh you know this or that but I am excited. You go to the test now and the difference, people's approach on it is like wow, it is crazy."
IS THERE ONE PERSON THAT HAS COME IN THAT YOU HAVE NOTICED, WOW THIS PERSON'S REALLY CHANGED THINGS? "To tell you the truth, it is like what, fifteen people on the road crew. I have three guys from last year. We have the tire guys, the truck driver and the shock guy, everyone else in my crew, including engineers is new. It was really, really good. It has been a noticeable change. I feel I had really good people and we had some really good guys last year, but I think these guys, something that is really good is a lot of the engineering base changed as well. Everyone has an open mind. You do not have people that have been here and go oh, this just can't be done. Everything is, we have to do this, and it gets done. That is really, really good."
INAUDIBLE: "Chip (Ganassi) is a guy that will do whatever it takes to win and he really, something that Chip and NASCAR has been really hard for him but everything else he really knows how to pick the right people and put in the right place, but I think with the people he hired he made sure he went the extra mile to make sure he had everything he needed."
DO YOU FEEL MORE COMFORTABLE IN THIS ENVIRONMENT WITH GANASSI? "When I was there we had a good time, there is a lot of politics and things that you do not like, all my career I have had a good time. I had a good time in Williams and even in Williams there were a lot of issues. Even here there are issues, there are always issues. You always want more and they always expect more and it is what it is."
INAUDIBLE: "I don't know to tell you the truth; we are really focused on what we are doing. The car has changed drastically, set-ups have changed drastically, I would not say it is like a Hendrick thing or a Red Bull thing, it is just overall the win and I think we need to go this direction and this needs to go that direction and there are a lot of really smart people there right now and they really seem to be making really good decisions."
WHAT DO YOU THINK OF CHRIS (HEROY, CREW CHIEF) SO FAR? "He has been really good, he wants it bad. It is fun because he is very open minded; you can tell him everything how it is. We seem to get along really well. The guys, everything, I am pretty happy. There are going to be struggles, I am sure there are going to be struggles but who doesn't have that? If you do not have that, you are not trying."
DO YOU EVER FIND YOURSELF STAR STRUCK? "Not really, I was in Formula One and when you go to Monico and when you go to IndyCar, Indy 500 I mean, you don't do this to see movie stars or whatever you want to call stars, you do this because you want to kick ass that is it."
YOU DON'T CARE WHO IS WATCHING? "No, as long as someone is watching, we are all good."
LAST YEAR, WOULD YOU CALL IT YOUR MOST FRUSTRATING YEAR AS A RACER? "No, it was a frustrating year because of performance, I will tell you the truth, it was a challenging year and there were a lot of changes. We tried really hard to make sure we improved the performance and we did a little bit. It was hard, the equipment was not there."
INAUDIBLE: "You try; of course you want to run well. Oh course you want to get great results and everything but, in the struggles, when you can make it work, you are doing ok. You are not as happy as you would be if you were winning races, but if you take a twentieth place car and you bring it home eighth, or seventh, I drove the wheels off that car. Take an example like Watkins Glen, we had a left front suspension was loose, the top wishbone was completely loose and I finished seventh like that. I ran second like that half of the race, with the suspension loose. When you have to turn the wheel ninety degrees just to keep it breaking straight, and still keep up with the leader, I think I am doing ok."
YOU NOW HAVE FIVE YEARS OF EXPERIENCE; DO YOU THINK YOU MADE THE RIGHT DECISION COMING TO NASCAR? "Yea, I don't regret it one second. I love being here, I really enjoy it, there are of course good memories in Formula One and everything, but I don't miss it. I miss some of the guys but do I miss the racing? No, I don't."
DO YOU GET BOTHERED BY PEOPLE WHO SAY THAT YOU STILL HAVE NOT WON AN OVAL RACE? "I don't care. Do I want to win on an oval? Yea I want to win on an oval. Do I want to win championships? Yea I want to win championships; we are here to get a job done. It doesn't really matter where it is one thing or the other; you just really want to try to get the job done."
CAN YOU GO FROM WHERE YOU WERE LAST YEAR TO CONSISTENTLY CHALLENGING FOR WINS? "I think that, to me the correct question is how much have we improved over the winter. The numbers show big, and everything looks pretty big, we were testing Nashville and we felt like we were a little bit quicker than RCR (Richard Childress Racing) and they normally run pretty good."
YOU SEE HARVICK GO TO FROM LIKE 19TH IN POINTS TO VIRTUALLY CHALLENGING FOR A TITLE, I MEAN IS THAT A GOOD COMPARISON? "Yea, I believe we have the right people to do that. We have really good cars. I think the question is going to be as we go into race weekends, how close are we with the balance of the car. Every driver drives completely different, and wants something completely different out of the car. We have to get to a point where we can unload closer to the set-up. If we can unload close, I think we can challenge."
WHAT IS REALISTIC FOR DANICA PATRICK? AND HOW HARD IS THIS GOING TO BE FOR HER? "That is a good question, I don't know. She is in a really good car, I think that, in a way should help her but in a way it will put a lot more pressure on her. If you think about it, you are in a Stewart-Haas car, a car that just won the championship; you are going to be expected to run well. Weather she was there or on the smallest team, everyone wants to see what happens. I think she might surprise some people."
WHAT IS THE BIGGEST ADJUSTMENT FROM THE OPEN WHEEL CARS TO STOCK CARS THAT DANICA PATRICK IS GOING TO EXPERIENCE? "She has been doing Nationwide for a year, and she has been getting better at it. I think this year she is going to get it. I think the question this year is how she transforms from Nationwide to the Cup car. The nationwide, you do not brake, they hardly ever lift, and it is very different. In the Cup cars we have to brake and there is a lot more power so you will be sliding around more, it is going to be interesting."
THERE IS PRESSURE IN THIS GAME FOR ANY DRIVER OUT THERE, IS IT ADDED FOR DANICA? "Who doesn't have pressure, I put a lot of pressure on myself to make sure that I perform as well as I can, everybody does, I think. I don't know, she is running here at Daytona and later in the year isn't she? I would say Darlington, would not surprise me if she struggled there because that is a hell of a tricky place, we will see, she might surprise everybody."
WHAT WERE YOUR TOUGHEST TRACKS WHEN YOU WERE GOING THROUGH IT? "I will tell you the truth; I went to the old Darlington. They were doing a tire test and they allowed me to do like five laps to at least know where I was going, and I was very shocked. It was a hell of an experience to say the least."
EVEN THOUGH HE FINISHED SIXTH LAST YEAR, YOU GUYS ALL LOOK AT JIMMIE JOHNSON AND GO HE IS STILL ONE OF THE GUYS TO BEAT? "He shows that it doesn't matter how good you think you are, you always have a shot. I think that, you look at Carl Edwards, that guy finished second in like 90% of the races in the Chase and still finished second in points. How much more consistent do you need to be? It shows that if you really want a title you have to take the wins, not the consistency. It is a challenge. It is interesting, I think this year it looks like there are a lot more cars to make the Chase so it is going to be a tighter race"
***
PAUL MENARD, NO. 27 PEAK/MENARDS CHEVROLET, met with members of the media at Daytona International Speedway and discussed winning the Brickyard 400, his chances of winning the 2012 Daytona 500 and his high school classmate Bon Iver front man Justin Vernon.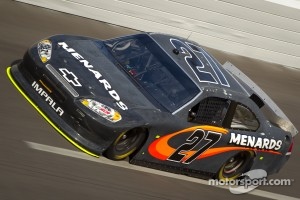 Paul Menard, Richard Childress Racing Chevrolet
WHAT CHANGED FOR YOU AFTER YOU WON THE BRICKYARD? IN TERMS OF YOUR CONFIDENCE OR HOW YOU WERE PERCEIVED ON THE RACE TRACK BY YOUR FELLOW COMPETITORS, DID YOU NOTICE A DIFFERENCE AT ANY POINT?: "Nothing really, honestly I get that question a lot. I still approach my race weekends the same way. Obviously going to Pocono the next weekend, it was a hectic week; there was a lot of stuff going on. Going to Pocono was really cool, walk through the garage and seeing a lot of the crew members and drivers say congratulations. That was one of the best parts about winning the race. Once you sit back in the car for the first practice, its business as usual. This off season I've had some time to reflect and spend some time with family and friends and I've gotten to enjoy it. It's still hard to believe that actually happened. I go about my business the same way though. This off season I've had a little bit of fun, done some work, been trying to do what I can personally to be competitive when we roll down here to Daytona."
REGAN [SMITH] WAS SAYING THAT AFTER HE WON THE SOUTHERN 500 HE FELT LIKE GUYS WERE GIVING HIM MORE RESPECT WITHIN THE FIELD. DID YOU EVER HAVE A POINT WHERE YOU FELT LIKE GUYS WERE GIVING THAT TO YOU?: "This sport is so up and down that you might feel like that one weekend and get into it with a guy the next weekend. I guess I haven't really noticed that. I feel like I have a good rapport with all my competitors and I've never really had that big of a run in with that many people. That has never really been an issue for me. I'm not sure if that is the case or not, like I say we just go about our business. Whatever happens, happens."
DOES KNOWNING YOU ARE A RACE WINNER IN THE NASCAR SPRINT CUP SERIES DO ANYTHING FOR YOU MENTALLY? "I will take it to my grave that I'm an Indianapolis Motor Speedway race winner. That is pretty special, something to tell the grandkids."
HOW ABOUT THE DAYTONA 500? OBVIOUSLY THE BRICKYARD 400 WAS VERY PRESTIGEOUS. WHAT DO YOU THINK THAT WOULD DO FOR YOUR CAREER? DO YOU THINK YOU WOULD ENJOY IT FOR A FEW WEEKS THEN GO BACK TO YOUR REGULAR SEASON MENTALITY? "You would have to or else you will get eaten up. It is just too damn competitive. Winning the Daytona 500 is number two on my bucket list. I got number one out of the way, Daytona would be pretty special, but then you go to Phoenix put on your helmet get into practice and all that goes out the window it is a new race weekend, a new day. I've got 10 fingers so I figure I can put a couple more rings on there."
DURING THE OFF SEASON OBVIOUSLY KEVIN [HARVICK] WAS ABLE TO STREAMLINE THINGS FOR HIMSELF, WITH THE ANNOUNCMENT OF THE BABY AND SHUTTING DOWN OF KHI. HOW HAVE YOU SEEN HIM CHANGE A LITTLE BIT BECAUSE OF THAT?: "I have seen Kevin quite a bit since the off season, hanging out in the shop. He seems relaxed, recharged and focused. I'm not sure if that's a good thing for his race team or not. He's an animal behind the wheel and he is a pusher at the race shop too. I think he is a lot more mentally prepared than what I saw a year ago."
TALK ABOUT THE BON IVER TWEET; DO YOU KNOW JUSTIN VERGAN? "Yeah I've known him for 18 years probably. Since like sixth grade, we went to school from sixth grade through graduation, we played football together. We've been to many parties together, we've been friends. That was pretty cool to see."
THAT MUST BE A SURREAL EXPERIENCE THAT A HIGH SCHOOL HAS NOW PRODUCED SEVERAL WELL KNOWN AND SUCCESSFUL STUDENTS: "Yeah and we've got a kid that is a year or two younger than us that plays for the Chicago Blackhawks. Memorial High School should be pretty proud."
CROSSING THE FINISH LINE AT THE BRICKYARD LAST YEAR, CAN YOU TELL ME WHAT IT MEANT TO YOU AND YOUR FAMILY AND YOU DAD TRYING TO WIN THAT RACE FOR SO MANY YEARS: " I was born in 1980, my first year there was 1983, his first year there was 1977. It was a long time of trying to win a race there. It was a lot of years that my dad was attempting, just growing up around the race track, being a pit rat hanging out with my brothers, my friends in the garage area. To be able to share it with everybody, my mom, dad, my sister was there my brothers weren't unfortunately, but it was pretty special."
WHAT WAS YOUR DAD'S REACTION AFTER THE RACE WHEN THE CAMERAS WERE OFF?: "He didn't stop grinning until I said goodbye for the night. I called him the next day and he was out celebrating with some friends, he was pretty pumped up."
NOW THAT YOU HAVE WON AT THAT TRACK WHAT DOES THAT MEAN TO YOU PERSONALLY?: "It's unbelievable. It still doesn't really seem like it happened. You look back and it was so hectic afterwards, it's kind of like man did that really happen. Over this off season I've had a lot of time to reflect and enjoy it."
ESPECIALLY SINCE IT WAS YOUR FIRST CAREER WIN: "I hadn't won a single Sprint Cup race before that for that to be the first, I didn't know the procedures and protocol afterwards, and they had you running around for about four hours after the race was over. Went to ESPN the next day and after about two hours of sleep and did the whole ESPN experience, then obviously a whole lot more media throughout the week so it was kind of a relief to get back to Pocono to the race track."
WHAT ARE THE WIN NOTES I MEAN FOR THIS YEAR YOU HAVE A LITTLE BIT OF A SHOT OF CONFIDENCE OBVIOUSLY: "We are as well prepared as I've ever been for the race season. I did what I could do for myself over the off season. Slugger (Labbe, crew chief) has been doing what he can do for the race team. We have talked pretty much every day and we are on the same page."
TELL ME A LITTLE BIT ABOUT YOUR OUTLOOK COMING INTO DAYTONA. WHAT ARE YOU LOOKING FORWARD TO AT THE START OF THIS SEASON?: "You roll into Daytona everyone has a high expectation. I firmly believe that we can be competitive this first handful of races. Just the preparations my guys have put in during the off season, I'm most excited to unload on Friday for Daytona practice and showcase their hard work. They have been busting their tail and I think we have a really fast race car."
TALK A LITTLE BIT ABOUT YOUR RELATIONSHIP WITH SLUGGER (LABBE, CREW CHIEF): "We talk almost every day; we see each other all the time. Actually, we did a little snowmobiling together, did a little skiing together. We are friends; we are going on our third year together. I think we complement each other he is a high strung guy; I'm a low key guy. We off set each other a little bit so it's a good relationship."
HAVE YOU ENJOYED COMING OVER TO RCR? "It is a great group of guys. From the first day I walked in there and started meeting some of the people. I saw a lot of familiar faces too from the DEI (Dale Earnhardt Inc.) days. I felt really welcomed from the get go. Having a year under my belt and a whole off season of preparation I feel like everybody is very confident right now. We have our preseason kick off lunch last week and we had a lot of enthusiastic people and that's good to see in this sport."
CAN YOU WIN THE CHAMPIONSHIP?: "Of course we can. We have all intents on making the chase and if that is step one, step two is to win the championship."