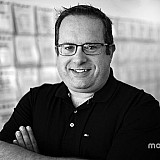 Darlington Raceway's "Throwback Weekend" – popular with NASCAR teams and fans this season – collected one of the sport's most prestigious honors on Thursday.
The speedway was named the 2015 recipient of the Myers Brothers Award, given by the National Motorsports Press Association to recognize individuals and/or groups who have provided outstanding contributions to the sport of stock car racing.
Darlington is the first track to receive the award since 1994 when Indianapolis Motor Speedway received it after hosting the inaugural Brickyard 400.
Darlington track president Chip Wile accepted the awarded Thursday during the annual Myers Brothers Awards Luncheon at the Wynn Las Vegas.
More than 30 cars in this year's 43-car Southern 500 featured throwback paint schemes, honoring everything from long-time sponsors to drivers and popular paint schemes from the early 1970s. Several teams' crews also wore uniforms similar to those worn at the time.
"We felt like if we could get eight or 10 teams on board to really showcase what we're trying to accomplish, we felt like in 2016 we could get more, in 2017 we would get more and so on," Wile said.
"But the response that we've gotten from everyone in the industry has been incredible. It was a fully integrated plan that made our event something special for the fans."
Driver Dale Earnhardt Jr. was among many who tweeted out congratulations to the track upon hearing the news.
Others receiving votes for this year's award were retiring four-time NASCAR champion Jeff Gordon and 2015 Cup series champion Kyle Busch.
The award is named in honor of former NASCAR competitors Billy and Bobby Myers.