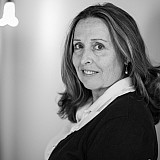 Patrick's crew forced to pull out a backup car.
DAYTONA BEACH, Fla. – Six minutes into Daytona 500 practice, a multi-car wreck occurred on the backstretch with Danica Patrick, Jeb Burton, Denny Hamlin and Michael Annett all sustaining damage. Kyle Larson also got a small piece of it.
The accident left the No. 10 Stewart-Haas Racing team scrambling for a backup car on Wednesday - after Patrick completed just one lap.
Burton, and Annett will go to backup cars as a result and the secondary No. 10 was ready in time for the second practice of the day. Hamlin returned to the track within five minutes of the session getting back underway.
"Chris, who got tore up behind us," crew chief Dave Rogers asked Hamlin's spotter Chris Lambert. "The 10 and then the 46 spun through the grass. I'm not sure how bad he is. If anyone else got anything it was off of debris."
Patrick was seen and released from the infield care center.
"It's unfortunate," Patrick said. "I know it was a car. I know it was a good coming from the shop. And with this new format that we have with qualifying and the race and everything, we knew we were going to have to race hard through the Duels anyway. That's not going to change.
"It just makes extra work for everybody having to get everything ready with the other car. Hopefully we'll get out soon and we'll go make sure everything is all right and we'll make sure it's good on time."
Hamlin on what went wrong
"I went through the middle and it was really wide – it just closed as soon as I had already got inside of her (Danica Patrick) and the lane closed," said Hamlin. "It knocked me into the 13 (Casey Mears) and we had some attrition after that."
"It's nothing that we have to go to a backup car for, but it messed up other cars. That's the tough part about it. You always have to give a little bit extra room in practice. There's typically not a whole lot of blocking in practice and things like that – that you'll see in the race. Also, you do have to go three-wide in those situations because you have to figure out what your car is going to do. That's just a miscalculation one way or another on one of our parts. Unfortunately some cars got torn up."
Nick DeGroot contributed to this story