At this time, qualifying for the Daytona 500 is still continuing; however Danica Patrick currently holds the provisional pole.
Daytona Beach, Fla. – All eyes were on female sensation when she took to the track to qualify for the Daytona 500, and she didn't disappoint anyone when she gained the provisional pole with a rapid run of 196.434 miles per hour.
She went out eighth and made her way to the top with a smooth run, knocking Tony Stewart off the top ledge. And she immediately welcomed a herd of media that wanted to hear her every word and fire questions at her.
"This is a moment to be proud of for the team," she said. "The driver only plays a small part. As a driver, you try not to scrub off any speed, so you go all the way around the top and build up the momentum. I am proud of the GoDaddy guys.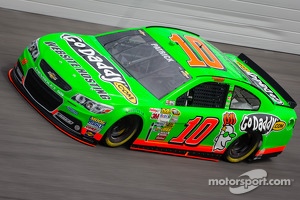 Danica Patrick, Stewart-Haas Racing Chevrolet
"I despise waiting (to see how qualifications play out) and I can only go down. I will be watching but need to find something to keep my time busy, relaxing and waiting to see what's going to happen in the end."
Asked what it would mean to become the first woman to win the pole for the Daytona 500, she said, "I heard that winning Daytona pole was like winning the world's biggest race. Publicity-wise it is Daytona 500, the Coca Cola 600, the All-Star race and then it is the Daytona 500 pole. For someone like GoDaddy that has been extremely patient waiting for me to get to full-time Sprint Cup, it is very important for them."
She reflected on the waiting game that takes place prior to the Indianapolis 500 and other events, knowing full well she could be bumped from the pole. "It is work, I am at work, I am doing my job and I am aware that anything can happen," the popular driver said. "I might miss the pole and the top six, which would be sad. The time to relax to be happy or sad comes when it is all over with."
So far, 25 cars have qualified and Patrick and teammates Ryan Newman and Stewart form the top-three qualifiers.
Ricky Stenhouse Jr., who is romancing Patrick, has qualified in sixth place at this point in time.