Subscribe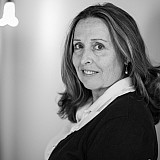 The Stewart Haas Racing No. 10 team looks to get backup car up to speed.
DAYTONA BEACH, Fla. – The seventh Daytona 500 practice was red-flagged at 2:17 p.m. on Friday after the No. 10 GoDaddy Chevy dropped fluid on the track.
"Coming in for smoke guys," spotter Brandon Benesch said over the radio.
"The water temperature just got to 200," Patrick said. "But I didn't see anything happening."
"Definitely smoke coming out of the right front," the crew replied.
Patrick ran three laps and posted a top time of 46.877-seconds - for the fifth on the speed chart before smoke came from her car.
The team diagnosed the issue as a water line problem. Patrick is currently driving the same car she drove in the Sprint Unlimited. The team finished repairs around 2:30 and she returned to the track. After five more laps, Patrick moved up to fourth quick.
Dale Earnhardt Jr. led the session with a lap of 46.295-seconds.