Get alerts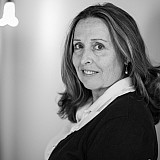 Patrick puts together complete weekend on an intermediate track
KANSAS CITY, KAN. – With a career-best seventh-place finish, Danica Patrick proved on Saturday night that she was more than just a novelty.
While the 30-year-old driver has been proficient on restrictor plate tracks since transitioning from open wheel to stock cars, putting together a complete weekend on a 1.5-mile venue has been more of a challenge.
But on Friday at Kansas Speedway, Patrick qualified ninth – by far her best effort on an intermediate track. While she was shuffled out of the top 10 initially after the start of the 5-hour ENERGY 400, Patrick battled her way back to the frontrunners – and was as high as third by Lap 171.
"That was by far the most consistent up front run," Patrick said to her team over the radio on her ride back to the garage. "All I wanted to do was stay up front – and we did, so thank you."
Patrick credited her veteran crew chief Tony Gibson with making the correct adjustments during the race. She described her car as "good from the get-go" which allowed her to be strong on the restarts – including when she passed Jimmie Johnson after the fifth caution -- and "really good on long runs", particularly with the new chassis the No. 10 team brought to Kansas.
Certainly, she can thank her veteran Stewart-Haas Racing teammate Kevin Harvick as well. Harvick, who started from the pole and finished second to race winner Jeff Gordon, spent over an hour with Patrick between practices and qualifying on Friday explaining the intricacies of the race track.
His advice?
"She just needed to quit thinking about it and smash the gas," Harvick said on Friday. "That is what she did. She's done a great job in trying to take in all the information and I think all the teams have been communicating well."
Patrick acknowledged that Harvick's assistance "definitely paid off in qualifying for sure".
"And it does pay off in the race, too," Patrick said. "But the little things he gave me advice on for qualifying really worked and that's the kind of stuff I was excited about having when Kevin and Kurt came onto the team and having Tony back full time was being able to get those little tidbits from those guys and fast forward my learning curve instead of having to learn it all myself.
"It's really cool when you have teammates who are unconditional like that and want to help you. When everyone is better, we all get better. It pumps the team up, and everybody wants it even more. I guarantee we're going to work even harder now. It's not to sit back. We're going to work harder because we love where we're at. This is what we work for, and now they can taste it, you don't want to let it go."